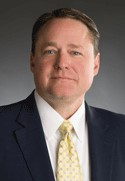 SNELLVILLE, Ga. (PRWEB) April 23, 2018
NAFCU President/CEO, Dan Berger will be a featured speaker at the African-American Credit Union Coalition's (AACUC), 20th Annual Conference, which will be held in Atlanta, Georgia, August 7 – 10, 2018. Berger will give his perspective on major regulatory issues facing credit unions. Other confirmed speakers include Herb Wegner Outstanding Achievement Award Recipients Pete Crear, Retired President/CEO of World Council of Credit Unions (WOCCU) and Lois Kitsch, National Program Director, National Foundation of Credit Unions; along with:

Ashely Beach Reid, Sr. Loan Manager, SECU of MD
Eric Hansing, VP of Multicultural Business Strategy, CUNA Mutual Group,
Andre Lucas, Director of Compliance, MD DC Credit Union Association,
Dorthy Mack, NW Division Executive, COOP Financial Services,
Kevin Martin, SVP of Organizational Performance &Strategic Planning, SchoolsFirst Credit Union,
Mike Mercer, President/CEO, Georgia Credit Union Affiliates
Pam Owens, SVP of Organizational Development,
Daron K. Roberts, Motivational Speaker and author,
Jai Rogers, VP of Business and Community Development, Delta Community Credit Union,
Shelton Roulhac, Director of Advocacy, CUNA,
Opal Tomashveska, Manager of Multicultural Business Strategy, CUNA Mutual Group,
Dawn White, Retired VP of Marketing, Coca Cola Credit Union,
Wesley Williams, VP of Technology, Valley Star Credit Union and
Marvin York, VP of Member Engagement at PSCU.
"Georgia was the provenance for the AACUC. Credit union professionals had a vision and brought it to fruition. Therefore, it is only fitting that we return to Atlanta to commemorate this milestone year. We are excited to have partners throughout the credit union industry join us as we celebrate AACUC's perpetual mission of providing advocacy and professional development to our members. Our collaboration with NAFCU, the Federation, CUNA Mutual Group, CUNA, NCUF, Filene Institute, Georgia Credit Union Affiliates and other credit union leagues, enables us to continue our pursuit for transformational change," said Timothy L. Anderson, AACUC Chairman and President/CEO of GPO FCU.
The conference will be held at the Atlanta Marriott Marquis in Downtown Atlanta.
For more information and to register for the conference, please visit http://www.aacuc.org.