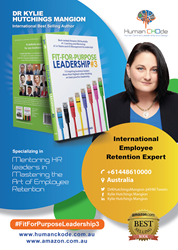 People are your most valuable asset
(PRWEB) April 24, 2018
Dr Kylie Hutchings Mangion
Human CKOde
+61 44861 0000
kylie(at)humanckode.com.au
THE MODERN LEADER: NEW WORKPLACE LEADERSHIP ON THE RISE
Global Leadership Best-Seller Highlights New High-Performance Trends
Sydney, Australia: For decades, businesses have operated under leadership models that rely upon strong leaders at the top who were required to operate as infallible (or very nearly so). However, trends over the past ten years show how dangerous this model has proved to be for a great number of businesses. A new international best-seller, 'Fit For Purpose Leadership' (Vol. 3) showcases a group of leaders whose work makes a strong case for more collective, creative and collaborative leadership.
As international award-winning leadership performance coach Andrew Priestley explains, "The research shows that purely top-down, command-and-control leadership models are no longer delivering the required performance. 'Fit For Purpose Leadership' contains the best thinking of leadership experts from 'Leadership Gigs', an international leadership think-tank that challenges the status quo in order to maximise personal and group performance. What we're seeing is the rise of more collaborative leadership models that deliver higher consistent workplace performance and healthier social capital."
'Fit For Purpose Leadership' became an instant international best-seller when it was published in early April, the third successive 'Leadership Gigs' volume to do so. Highlights include:
Dr Kylie Hutchings Mangion highlights the steps a leader can take in developing an influential human centred mindset.
Tony J Selimi discusses how leaders struggle with "carrying an overwhelming burden of seemingly unsurmountable working engagements".
Matthew Newnhan advice on the importance of conversations that Flow, being conscious of the other person, what matters and how they feel.
Contributing author Dr Kylie Hutchings Mangion, a Cognitive Ergonomist and the Executive Director of Sydney-based Human CKOde, mentors HR leaders in Mastering the Art of Employee Retention. As Kylie explains, "Far too often, what we find is that workplaces don't have the foundational knowledge or tools to lead from a fully human-centred perspective. As a result, they spend more time, effort and money to achieve similar or lower performance and wellbeing than those that do."
The aim of the 'Fit For Purpose Leadership' is to raise the effectiveness of workplace leadership globally. Employee retention is a challenged faced by leaders across the globe. Dr Kylie Hutchings Mangion shares what is takes for leaders to align with their people. Each article in this and the earlier volumes contains original insights to enable individual leaders and teams to raise their game consistently and reliably.
About Dr Kylie Hutchings Mangion:  Dr Kylie Hutchings Mangion is a recognised expert in human cognitive performance and human-centred leadership and design. Whilst here insights in areas of leadership, design, capacity and performance enable industry leaders to optimise the human experience within their organisation's, she specializes in mentoring HR leaders in mastering the Art of Employee Retention. Dr Hutchings Mangion also lectures for Charles Sturt University in areas of evidence based practice, communications and education. For further details, contact Kylie on +61 448 610000, kylie(at)humanckode.com.au or visit her website at http://www.humanckode.com.au/.