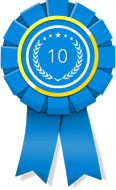 NEW YORK (PRWEB) April 23, 2018
For the month of April 2018, 10 Best Design has named the 10 top contenders for the title of Best Web Design Firm, with Ruckus Marketing heading up the list.
Over the years, 10 Best Design has made it a practice to give out monthly awards in the field of web design and development. The following are brief descriptions of the three top companies on this month's list.
Ruckus Marketing, the top choice on the list of best website design agencies, is based in New York, New York. This agency works with inspired companies and game-changing brands, and they are a big part of the influence that these companies have with all the work that they do. They engage in core strategies that are completely designed to deliver results to their clients, as they want to not only develop the brands of their clients online but also tell a real story in the process that will benefit the clients. They also work with platform design and different digital marketing campaigns.
Second company in the running is Blue Fountain Media, a top web design firm that is also based in New York. This company is known for diverse work in not only website design and development, but also brand strategy and other facets of digital marketing that help their clients. They are very heavily focused on growing the brands of their clients in the digital world, and they do this using skills in several different areas, including strategy and consulting, branding and logo design, mobile apps, website development, and digital marketing. When it comes to growing a brand, they are known for their three-step approach, which includes driving qualified traffic, converting visitors into customers and leads, and generating loyalty and repeat business for the brand.
Ranking third as a top web design firm is SPINX Digital, which is headquartered in Los Angeles, California. This company is known for thinking big when it comes to web design and development. They have a team of digital marketing professionals and innovators that bring excellent skills to any project that they are working on for clients. They are known for professional B2B and B2C web design and development, in addition to work on user experience, social media, advertising, mobile applications, digital strategy, email marketing initiatives, and content management systems, among other things.
For more information about this month's winners, please visit http://www.10bestdesign.com.