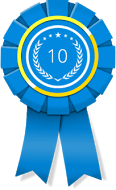 NEW YORK (PRWEB) April 24, 2018
10 Best Design is pleased to announce the winners of its Best eCommerce Web Design Firm awards for April 2018, with Ruckus Marketing, Blue Fountain Media and Dotcomweavers taking the top honors.
Every month, 10 Best Design creates a list of the companies that qualify for the title of Best eCommerce Web Design Firm. The companies on this list are definitely worthy of consideration for any client who is looking for an agency in this category. For the month of April 2018, 10 Best Design put out a list of the 10 best companies in this area. Following are descriptions of the top three contenders.
The first company on the list, and thus the top candidate for the title of Top eCommerce Web Development Company award, is Ruckus Marketing. A New York City-based top eCommerce web design firm, Ruckus Marketing, will work with a client on all aspects of digital marketing, including the design of functional interfaces that will not only boost the performance of the brand but also create a digital presence that customers will enjoy. The company ensures that the UX/UI design on clients' pages use data-driven research to make it so that the quality of visitor interaction with the page is as effective as possible.
Number two on the list of top eCommerce web development companies is Blue Fountain Media, a business that is based in New York, New York. This company is known for excellent website design as well as brand marketing and other types of digital marketing that have shown themselves to be highly effective. They focus a great deal on branding, as they know that this is a key way in clients can connect with their customers and build their image in the minds of these individuals. They focus not only on attracting the customers in the first place but also on generating brand loyalty and ensuring that as many customers as possible become repeat customers.
Coming in third on the list of leading eCommerce web design firms is Dotcomweavers, based in the city of Paramus, New Jersey. This company is known for its abilities when it comes to website design and development as well as different digital marketing strategies that have proven to be very effective. They know the importance of the bottom line, which is why they make it a priority to help every client reach as many customers as possible. They create custom product catalogs that enable products to be displayed in a way that is efficient and accessible to the customer.
For more information about this month's winners, please visit http://www.10bestdesign.com.