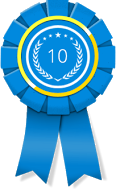 SAN FRANCISCO (PRWEB) April 25, 2018
10 Best Design is excited to announce the award winners in its Best Responsive Web Design Firm category for April 2018. Ruckus Marketing of New York City snagged the coveted number one spot for quality of branding, app development, interactive marketing and more, while Blue Fountain Media of New York and SPINX Digital of Los Angeles came in second and third, respectively.
10 Best Design, a San Francisco-based subsidiary of 10 Best Network, created the new monthly Best Responsive Web Design Firms Awards list to recognize agencies that make clients' websites accessible to all users of desktop computers, laptop computers, notebooks, tablets and phones. The latest winners of its Best Responsive Web Design Firms Awards were reviewed based on a wide range of qualitative and quantitative statistics.
Considered to be the best responsive web design agency, Ruckus Marketing is a full-service digital firm that is renowned for impressing clients with top-notch quality work and specialization in web design, branding, app development and interactive marketing. In the area of responsive web design, 10 Best Design recognized the Manhattan-based agency as the best responsive website development company for its creation of web pages that look good across devices and window/screen sizes.
Blue Fountain Media, also headquartered in New York City, landed the respectable number two spot on 10 Best Design's Best Responsive Web Design Firms list based on the agency's expertise in making websites cross-compatible on various devices. As a leading responsive web design firm, Blue Fountain has a passion regarding the consistent implementation of responsive web design services. This, coupled with its customization to suit the needs of clients' distinct product pages, is enabling its clients to thrive in the online realm.
Third on 10 Best Design's list of best responsive website development companies was SPINX Digital, a Los Angeles-based digital agency that has extensive experience with all of the tech that goes into creating responsive sites. Responsible for amazing-looking web portals that appear beautifully on desktop and mobile devices, SPINX has worked with a range of brands, including GE, CBS and Lip Smackers, all of which sought responsive web design services at down-to-Earth prices.
About 10 Best Design
Established in San Francisco, 10 Best Design is comprised of a team of individuals from around the country who have worked in online branding, web design and app development for a number of years, all boasting experience in Ruby on Rails, PHP, JS, CSS, HTML and more. This team, which also consists of experts in online branding and search engine optimization (SEO), uses their skills to give 10 Best Design an uncanny ability to identify the top digital agencies in a sea of average variants.
For more information, visit http://www.10BestDesign.com.