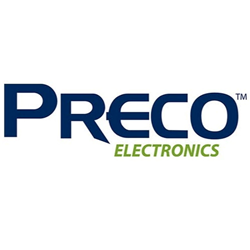 "PRECO's blind spot monitoring systems help customers and partners deploy active driver assistance integrated with existing vision and other safety technologies, to reduce collisions and save lives."
BOISE, Idaho and LAS VEGAS (PRWEB) April 24, 2018
PRECO Electronics®, the global leader in heavy-duty collision avoidance solutions, today announced its participation at the 2018 WasteExpo Conference in Las Vegas.
PRECO, located in booth #2207, will be showcasing the value of its collision avoidance systems, PreView Sentry™ and PreView Side Defender®. PRECO's systems actively monitor blind spots to provide active all-around radar sensing that improves operator awareness, ensuring safer operations and mitigating accidents.
At this year's WasteExpo, McNeilus will be showcasing PRECO's PreView Sentry and Side Defender integrated with its McNeilus® CODE Touch Display on a refuse truck on the show floor. This system combines PRECO all-around blind-spot driver assistance with the intuitive, driver-friendly CODE Touch Display. McNeilus, a leading manufacturer of front load, side load, and rear load refuse trucks, understands the value that PRECO's all-around blind-spot assistance provides to refuse truck operators.
The integration of PRECO products to create active all-around solutions comes as the waste industry focuses on operational safety. According to statistics from the Solid Waste Association of North America (SWANA), seven solid waste-related fatalities in the United States occurred in the first 10 days of 2018. These numbers are unfortunately reminiscent of the first six months of 2017 when 51 people lost their lives in solid waste-related incidents, including 15 employees and 36 members of the public. These startling statistics are driving a renewed emphasis on safety.
"Unlike many other heavy-duty markets, the waste industry's working proximity to the general public makes it highly susceptible to collisions and incidents" said Tom Loutzenheiser (@TomLoutz), Vice President of Business Development at PRECO Electronics. "PRECO's blind spot monitoring systems help customers and partners deploy active driver assistance integrated with existing vision and other safety technologies, to reduce collisions and save lives."
The PreView Side Defender actively warns operators of objects in the vehicle's side blind zones, including pedestrians, bicyclists, and vehicles. PreView Sentry, designed for rear collision detection, incorporates a fully-adjustable detection zone, with the ability to detect objects from the face of the radar up to 30 meters (98 feet). Additionally, the width of the detection zone is adjustable to fit nearly every heavy-duty vehicle and equipment type. When combined, the two systems provide operators with active blind-spot monitoring around the truck, actively warning drivers of potential threats so they can take action to reduce the number of and severity of collisions.
PRECO's PreView Sentry and PreView Side Defender are available immediately from PRECO Electronics as well as authorized PRECO distributors and partners. To learn more, visit preco.com or contact PRECO at 866.977.7326 or email info(at)preco(dot)com.
About McNeilus
McNeilus Truck & Manufacturing, Inc., an Oshkosh Corporation company, is an industry leading manufacturer of refuse truck bodies. McNeilus produces a complete line of rear load, front load, and automated side load units to augment any refuse collection fleet. Each product line offers multiple models to fit your specific needs. Through its CNG Systems and Service program, McNeilus designs, installs, services and supports compressed natural gas (CNG) solutions for heavy duty fleets of all types. All supported by a comprehensive, factory direct sales and service network equipped with replacement parts to bring new life to your entire fleet. For more information, go to http://www.mcneiluscompanies.com.
All brand names referred to in this news release are trademarks of Oshkosh Corporation or its subsidiary companies.
About PRECO Electronics
PRECO is the global leader of collision avoidance solutions for heavy-duty equipment industries. PRECO believes that those responsible for heavy-duty equipment operations have a desire to keep the people and property around them safe and free from harm. We design, engineer, and manufacture collision avoidance technology optimized for heavy-duty equipment. Our safety products have survived the industry's most rigorous testing for unstoppable performance in the harshest working conditions imaginable, so operators and fleets can perform with greater confidence and peace of mind.
Established in 1947, PRECO has been providing safety solutions to heavy-duty industries for over 70 years. Learn more at http://www.PRECO.com and follow us on Twitter @PrecoElec.