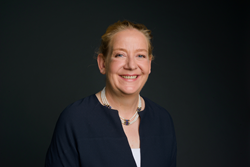 Dr. Morris has strong leadership capabilities in a volunteer-based organization essential to PDA
BETHESDA, Md. (PRWEB) April 23, 2018
The Parenteral Drug Association (PDA) is pleased to announce that Tina Morris, PhD, has been named Vice President of Scientific and Regulatory Affairs, effective June 4, 2018. Dr. Morris currently serves as Sr. VP of Compendial Sciences at the U.S. Pharmacopeia, with whom she has worked for 15 years.
In her new role, Dr. Morris will oversee PDA's scientific and regulatory affairs activities, which include industry-leading technical reports, the newly launched standards-development program through the American National Standards Institute (ANSI), regulatory commenting, and overseeing PDA's four technical/regulatory advisory boards.
"Dr. Morris has strong leadership capabilities in a volunteer-based organization that we believe are essential to PDA's efforts to continue PDA's legacy of leadership in bio/pharmaceutical science," said Richard Johnson, President and CEO, PDA.
Dr. Morris began her career at USP as a senior scientific liaison in 2003, and saw her responsibilities grow each year before becoming Senior VP in 2015. Prior to USP, she worked for Human Genome Sciences, Inc. and at Ciphergen Biosystems, Inc. She received her PhD in molecular virology from the Medical University of Luebeck, Germany and a BSc and MS in biology from the Carl von Ossietzky University in Oldenburg, Germany.
Richard Levy, PhD, PDA's outgoing Sr. VP of Scientific and Regulatory Affairs, announced his retirement earlier this year after 13 years in the role. Among his many accomplishments in the role, Dr. Levy oversaw a marked increase in the number of technical documents published annually, the conversion of the PDA Journal of Science and Technology from a print to an online-only publication, and the growth of the Scientific and Regulatory Affairs department staff to levels that can better support the efforts of member volunteers. Dr. Levy will take on the role of Editor of the PDA Journal of Pharmaceutical Science and Technology on May 21.
"Dr. Levy's many contributions to PDA, both as a volunteer for many years and as part of the staff since 2005, are numerous," said Johnson. "He was most instrumental in ramping our technical activities to a level higher than any time in our history. We look forward to working with Dr. Levy as the editor of the Journal for many years to come."
###
About PDA – Connecting People, Science and Regulation®
The Parenteral Drug Association (PDA) is the leading global provider of science, technology and regulatory information and education for the pharmaceutical and biopharmaceutical community. Founded in 1946 as a nonprofit organization, PDA is committed to developing scientifically sound, practical technical information and resources to advance science and regulation through the expertise of over 10,500 members worldwide. Go to http://www.pda.org/footer/about-pda to learn more.