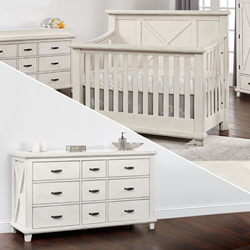 Our customer service has been inundated with phone calls, e-mails, and live chats seeking out the furniture since we added it to our website. It's a great feeling helping everyone
MELVILLE, N.Y. (PRWEB) April 24, 2018
Bambi Baby is officially assisting former Toys"R"Us customers with acquiring furniture previously exclusive to Toys"R"Us stores.
The Toys"R"Us announcement that it is winding down operations and closing its store has created a huge demand for certain brands carried only at Toys"R"Us stores across the nation. Many expectant parents have been left with incomplete baby registries, and nowhere to turn. With the approval of some of the top vendors, such as Oxford Baby, Sorelle, Best Chairs, Cosi Bella, and Westwood Designs, Bambi Baby is now carrying many of the Babies"R"Us nursery furniture collections.
Oxford Baby had prominent display on the sales floor in many Babies"R"Us stores across the country, selling their Lexington and London Lane nursery collections. Best Chairs was one of Babies"R"Us' top selling glider brands, with several different top selling models exclusive to their stores.
Much of the furniture sold at Babies"R"Us features cribs that are able to convert into toddler beds, and even full size beds, making them usable from birth through teens.
Bambi Baby CEO Enelio Ortega said "Many parents hold out on buying the conversion rails until they actually need them. When they lose access to buying these products, panic sets in. We had hundreds of phone calls from desperate customers expressing their frustration with incomplete registries and baby nurseries. They needed their furniture, they needed their chairs, and we're happy to be able to step up to the plate and get them what they need. The response has been overwhelming. Our customer service has been inundated with phone calls, e-mails, and live chats seeking out the furniture since we added it to our website. It's a great feeling helping everyone."
Bambi Baby is a family owned and operated business offering a wide range of furniture, strollers and car seats, and clothing. Headquartered in New Jersey, it currently has two store locations: West New York, NJ and Melville, NY (Long Island). It has a large e-commerce website at https://www.bambibaby.com, where it is able to service the contiguous United States.
cs(at)bambibaby(dot)com
877-882-2624