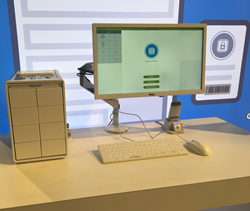 Derive Healthcare collaborates with Humanscale Healthcare to bring the MedLink Pro: Pharmacy Edition solution to providers, adding unique Medication Cassette Docking capabilities to Humanscale's modular Medication Workflow Solution.
NEW YORK (PRWEB) April 24, 2018
Derive Healthcare – the dedicated healthcare practice of the NY/NJ -based, nationwide IT business solution provider, Derive Technologies – is expanding its alliance partnership with Humanscale® Healthcare. Derive and Humanscale have a significant track-record of partnering success, with 2018 marking the fifth-year anniversary of the collaboration between the two companies.
Humanscale and Derive have achieved this success through a shared mission of providing innovative, forward-thinking solutions to address the many challenges facing healthcare. In this light, the companies are jointly announcing today Derive's authorization for Humanscale Healthcare's MedLink™ Pro and MedLink™ Pro Pharmacy Edition Medication Workflow solutions, and Derive's continued capacity to support and sell other Humanscale Healthcare offerings.
MedLink™ is the next generation in smart workflow solutions with mobile medication carts incorporating advanced options such as individual drawer control, drawer auto-close feature, electronic drawer labeling and other key features. MedLink™ Pro further integrates into existing IT infrastructure and enterprise EHR application workflows. User rights and privileges are centrally managed by Microsoft® Active Directory, while hospital patient data is securely streamed to MedLink via HL7 Integration. Additional secure transport and mounting options are available or are soon to be available extending the benefits of MedLink Pro into additional pharmacy, nursing-unit and patient-room scenarios.
Derive is fully trained and authorized to sell and implement MedLink Pro. Additionally, Derive's solutions encompass the complete Humanscale Healthcare suite, comprising TouchPoint Mobile Workstations, ViewPoint Wall Arm Systems and HealthPoint Technology Cabinets, as well as specialized peripherals.
"I am pleased to announce our strategic alliance with Derive Technologies," said Mounir Khouy, Humanscale's MedLink Product Specialist. "Humanscale Healthcare's mission is to introduce solutions that lead to better patient outcomes, and we are thrilled to partner with this leading solution provider to expand the reach of our revolutionary approach to closed-loop medication systems."
"Derive's healthcare customers rely on our extensive experience and expertise when critical solutions are needed, all too often requiring a mixture of unfamiliar products, services and manufacturers," noted Bill Eggers, founder and head of Derive's Healthcare division. "Additionally, and importantly, customers trust that Derive carefully vets, on their behalf, any solution's long-term viability and sustainability." Eggers continued, "Beyond amply meeting these requirements, Humanscale Healthcare brings their visionary innovation and ingenuity to bear on tackling today's critical workflow initiatives. There is no better example of this than MedLink Pro."
"Time and time again, Derive and Humanscale's partnership has proven to be a recipe for success. Our strategic collaboration provides an unparalleled healthcare experience for patients and caregivers, and we look forward to tackling the challenges surrounding patient safety, nursing workflow, and medication administration, together," said Humanscale Healthcare Director of Sales, David DiTirro.
ABOUT DERIVE HEALTHCARE
Derive Healthcare has supported point-of-care and other IT business needs of healthcare organizations of all sizes in the NY/NJ Metro Areas, and across the US, for nearly 20 years. Derive has directly collaborated with the world's most important manufacturers of point-of-care technology – as well as healthcare application and IT infrastructure providers – to develop premier consulting, purchasing (and financing), implementation and support services.
Derive's comprehensive suite of offerings includes accurate and honest technology analyses and assessments, compliance-ready solutions that reflect an inside understanding of regulatory control and administration, and healthcare budgets and operational requirements.
ABOUT HUMANSCALE HEALTHCARE
Humanscale Healthcare is a premier global provider of medication carts, wall-mounted workstations, mobile computing solutions and telemedicine carts, renowned for innovative product development that helps healthcare facilities enhance patient care, safety and staff productivity.
Humanscale has been designing award-winning ergonomic tools for the workplace for more than 25 years, creating groundbreaking products that make the workplace healthier and more comfortable for the user. Humanscale Healthcare brings a unique perspective on human factors to the Healthcare market. The company's elite team of certified ergonomists and award-winning designers and engineers collaborate with medical providers to develop the most intuitive, body-friendly computer support solutions available to today's healthcare practitioners.