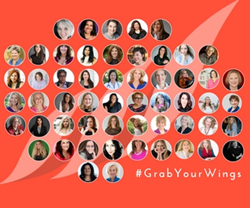 "You Won't Watch To Miss This - I'll Be Watching EVERY Presentation" - Lisa Sasevich
WASHINGTON, D.C. (PRWEB) April 24, 2018
Successful female entrepreneurs, women business owners and investors including Hint CEO Kara Goldin, Brandless CEO and Investor Tina Sharkey, Invisible Close CEO Lisa Sasevich, health entrepreneur and bestselling author JJ Virgin, and venture capital investors including Belle Capital's Lauren Flanagan, Rise of the Rest's Melissa Bradley and Female Founders Fund's Anu Duggal, join together with 50 other top innovators and influencers with 7, 8 and 9 figure businesses to "pay it forward" with a 5-day "Entrepreneurial MBA" with the WINGS of Success Summit.
Conceived and hosted by serial technology and media entrepreneur Melinda Wittstock, the WINGS of Success Summit provides more than 72 hours of video presentations, teachings and interviews on entrepreneurship, business growth and investing this week, from April 23rd to April 27th.
"Women in business have succeeded in silence for too long," says WINGS' Melinda Wittstock, who has built four of her own successful businesses. "It's time to change the game – and my moonshot is to invest in female founders".
WINGS is a weeklong online "Entrepreneurial MBA" for anyone in business who is thinking of launching a startup, need motivation or inspiration to hit their first milestones in revenue and traction, and practical tips to scale up to $1million, $10 million and beyond.
"The knowledge transfer that is about to take place here over the next few days is incredible," says Lisa Sasevich, 8-figure entrepreneur ranked on Inc. 500 for two years running, and best-selling author of Boost Your Sales: How to Use Irresistible Offers. "Its really unimaginable to think that over 50 women, all 7, 8 and 9 figure entrepreneurs, are all at the Summit to give."
Women in business share their success secrets, and practical advice on everything from financial freedom and wealth building through to mindset and self-care, marketing, sales, social media, personal branding, networking, mentoring, innovation, influence, and angel and VC investing.
"Participants will be learning how to get the right Mindset to manifest the Mojo to attract the Money to land your moonshot," says Wittstock, who says the WINGS acronym stands for "women, innovating, networking, growing and scaling" and encompasses technology, artificial intelligence, consumer goods, health, media, education and financial sectors.
Tina Sharkey, venture capitalist investor and now the CEO and co-founder of the fast-growing consumer goods company brandless: "There are a lot of extraordinary people, building a lot of extraordinary movements, and this Summit is one of them. I think what Melinda is doing with WINGS, and the commitment she's made is extraordinary, and I know that everyone who's participating in this Summit is so grateful."
Wittstock, who also hosts the fast growing and critically acclaimed podcast Wings of Inspired Business, says the Summit is the first in a series of online and in-person events, epic experiences, courses and masterminds.
"We all soar higher when we fly together, and my moonshot is to invest $10 million in 100 female-founded and women-run businesses in the next 10 years," says Wittstock. "I'm starting by BEING the change I want to see in the world – the catalyst to give voice to the journeys of women in business and female entrepreneurs, the catalyst to inspire an ecosystem where women show up for each other, mentor each other, throw business to each other and invest in each other."
Lauren Flanagan, a serial entrepreneur, investor and founding partner in BELLE Capital who has invested in many emerging growth companies founded by women, says: "Success for me this week will be that there is something I said that somebody heard out there, and they say, 'Wow. That's just the way I needed to think about something or something I've got to do now so we can get funded. That would be success."
With all the headlines about sexual harassment in Silicon Valley and the challenges female founders experience raising money, with only 3% of the available venture capital going to women, the WINGS Summit is a game-changer, and features prominent women, among them:

Kara Goldin, CEO and founder of Hint, who has grown her healthy lifestyle brand to near $1bn 'unicorn' status.
JJ Virgin, the celebrity nutrition and fitness expert and four-time New York Times best-selling author of The Virgin Diet and others.
And many more including well-known entrepreneurs, including Christy Whitman, brandless CEO Tina Sharkey, Gitte Pedersen, Likeable Media CEO Carrie Kerpen, and Alice CEO Carolyn Rodz, as well as investors Fran Hauser, Melissa Bradley, and Anu Duggal, and many more.
More about the WINGS of Success Summit:
Sign up here for your pass. Each day's presentations are accessible for 24 hours. Lifetime Access Passes are also available to unlock downloads and replays of all the videos, audios, transcripts, and bonus resources, as well as a private Mastermind for a whole year.
More about Melinda Wittstock:
Melinda is a serial entrepreneur who has built four successful businesses in media and technology. Currently CEO and founder of the social intelligence company Verifeed, Melinda is also the host of the daily WINGS of Inspired Business podcast (available on iTunes, Google Play, Spotify, SoundCloud and Stitcher. She's also an award-winning journalist and TV host (Times of London, BBC, ABC News and MSNBC/CNBC) and has built audiences for mobile apps and TV shows to as many as 20 million using the methodologies she's perfecting with artificial intelligence and her Return on Authenticity™ algorithms and processes at Verifeed.