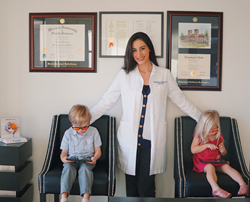 By opening up an affiliate program, I'm hoping to help more people protect their eyes as we use technology more and more.
GLENDALE, Calif. (PRWEB) April 26, 2018
Dr. S Eyewear, a leading brand in blue light blocking technology, recently launched an affiliate program to help protect as many people as possible from the negative effects of blue light. Because the most popular brands of blue light blocking glasses are not as effective at blocking the harmful light as Dr. S's blue blockers, many people may not be as protected as they think. The goal of the affiliate program is to bring more awareness and access to the products that truly ensure protection of adults' and kids' eyes.
The affiliate program allows anyone who wants to promote Dr. S Eyewear to earn money for every person they refer who makes a purchase, whether they purchase blue light blocking glasses, reading glasses, or polarized sunglasses. Commission is as follows:
$17.25 on every pair of large square, small square, and round blue blockers
$14.25 on every pair of kid's blue light blocking glasses
$12.00 on every pair of clip-on blue blockers and reading glasses
$7.50 on every pair of polarized clip-on sunglasses
Dr. S Eyewear is the only brand of blue blocker glasses that prevents up to 99% of all blue light, whereas other popular brands block less than 70% of blue light.
Dr. S Eyewear was created by Dr. Mariana Salmasi, a medical optometrist who specializes in the treatment and management of eye diseases, corneal refractive therapy, and specialty contact lenses, as well as co-managing post-operative care for LASIK and cataract surgery. In addition to practicing as an Optometrist, Dr. Salmasi enjoys painting, designing, sculpting, and creating art, which led her to create her first eyewear patent in 2013.
To learn more about the Dr. S Eyewear Blue Blocker Affiliate Program and sign up, visit the website.