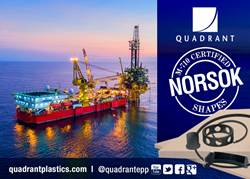 Testing has shown that Quadrant's Duratron® seals virtually eliminate tooth deformation and mating shaft damage during shaft rubs, common in metal and alloy seals.
HOUSTON (PRWEB) April 23, 2018
Quadrant Engineering Plastic Products(EPP), the leading global manufacturer of high-performance thermoplastic materials, visits the 2018 Offshore Technology Conference (OTC) this April to showcase the latest innovations in advanced engineering grade plastics, polymers, and composites for offshore technology. Known as the energy industry's premier global event, the annual petrochemical conference drew over 70,000 professionals from more than 100 countries in 2017.
Finished part solutions and stock shapes available from Quadrant help global clients in the compressor, valve and pump markets to find the right material for their specific applications. Quadrant's polymer labyrinth seals, for example, have been specially designed for the turbo compressor market. The seals have 15+ years proven performance, reducing tolerance or maintaining original tolerance over their lifetime, providing improved compressor efficiency. Testing has shown that Quadrant's Duratron® seals virtually eliminate tooth deformation and mating shaft damage during shaft rubs, common in metal and alloy seals.
Quadrant materials comply with many common industry specifications, including NORSOK, ISO, ACME, API, and NACE, delivering reliability, safety, and efficiency. In an industry with strict requirements for temperatures, loads, and chemicals, Quadrant delivers a superior and vast portfolio of products. Quadrant EPP is committed to the accuracy of thermoplastics data for more successful specification writing. Our in-house lab machine-tests samples from the actual post-process stock shapes to ensure our customers receive materials that are on-spec and comply with ASTM/ISO standards. In the oil and gas industries, where part failure can be particularly disastrous (leaks leading to environmental damage; lost revenue due to downtime; and even death), specifying the right material is critical.
OTC is sponsored by 13 different industry organizations and societies. Founded in 1969, the annual conference is the leading forum to exchange ideas and opinions advancing the safe, environmentally friendly, and sustainable development of offshore resources. The conference consists of panel sessions, keynote presentations, technical paper presentations, and networking events.
Visit Quadrant EPP at the 2018 Offshore Technology Conference (booth #161) at NRG Park in Houston, Texas from April 30th – May 3rd, 2018. Application specialists and technical experts will be on-site to answer questions.
About Quadrant Engineering Plastic Products:
Quadrant EPP technology is backed by a global team of application development and technical service engineers, specializing in evaluating designs and fabrication techniques. Quadrant EPP materials expertise is available through a worldwide network of branch offices, technical support centers, and authorized dealers. Learn more about Quadrant EPP at http://www.quadrantplastics.com or connect with Quadrant EPP on Facebook, YouTube, and Twitter ("quadrantepp").
Registered trademarks of the Quadrant group of companies: Acetron®, CleanStat®, Duraspin®, Duratron®, Erta®, Ertalyte®, Ertalene®, Ertalon®, Extreme Materials®, Fluorosint®, Ketron®, MC®, Monocast®, Nylatron®, Nylasteel®, Polypenco®, Proteus®, Sanalite®, Semitron®, Techtron®, TIVAR® and Vibratuf®.