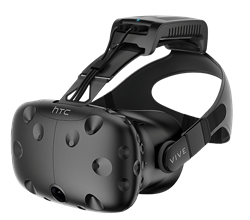 "The VR market is very promising. TPCAST's Wireless Adapter is a great addition to our product line that will allow many VR users to 'cut the cords' and experience the immersive, free Wireless VR world."
SUNNYVALE, Calif. (PRWEB) April 23, 2018
TPCAST announced today that it has signed Fry's Electronics as a channel distributor partner for its HTC Vive Consumer Edition Wireless Adapter. TPCAST is expanding its U.S. channel partners all over the United States covering 34 Fry's Electronics stores and online at Frys.com. TPCAST, the leader in Wireless Virtual Reality (VR) solutions, and Fry's Electronics, one of the largest consumer electronics retail stores in the US, partnered in order to provide an immersive, Wireless VR experience in-person at Fry's stores and expand TPCAST's outreach of its Wireless Adapter for the HTC Vive.
The TPCAST Wireless Adapter for HTC Vive has been shipping in North America since November 2017. TPCAST technology is a breakthrough in the VR field, creating a wireless connection between the PC and the VR headset, providing VR users a unique, truly immersive experience. It allows HTC Vive VR users to seamlessly upgrade their VR headset to a Wireless HMD. Based on leading edge technology, the TPCAST adapter preserves the video quality and maintains sub 2ms latency.
"TPCAST is proud to partner with a leading retailer like Fry's Electronics. We are looking forward to engaging in sales and marketing activities that will enable us to demonstrate the product directly to consumers allowing them to get a first-hand experience with Wireless HTC Vive HMDs," stated Udi Yuhjtman, TPCAST'S North America General Manager. "We believe adding the Wireless Adapter for HTC Vive will open a new experience for VR users and will help expand the VR market."
"Fry's is excited to partner with TPCAST and introduce new products and technologies to our customers," said Manuel Valerio, Fry's Community Relations Manager. "The VR market is very promising. TPCAST's Wireless Adapter is a great addition to our product line that will allow many VR users to 'cut the cords' and experience the immersive, free Wireless VR world."
Availability & Pricing:
The TPCAST Consumer Edition Wireless Adapter for the HTC Vive is available at all 34 Fry's retail stores at a price of $299.99. Check http://www.frys.com for availability.
About Fry's:
Fry's Electronics, Inc. was founded in 1985 in Sunnyvale, California in a 20,000 square-foot location by the three Fry brothers, John, Randy, and Dave; and Kathy Kolder. Fry's is a closely-held private company, and all of the founders are actively involved in the daily operation of the business.
Fry's was founded as a Silicon Valley retail electronics store to provide a one-stop-shopping environment for the Hi-Tech Professional. Fry's continues to keep hi-tech professionals supplied with products representing the latest technological trends and advances in the personal computer marketplace. Fry's retails over 50,000 electronic items within each store, now totaling 34. There are currently 8 stores in Northern California, 9 stores in Southern California, 8 stores in Texas, 2 stores in Arizona, 2 stores in Georgia, and 1 store each in Illinois, Indiana, Nevada, Oregon and Washington. The stores range in size from 50,000 to over 180,000 square feet. Fry's also provides customers with added shopping opportunities via its website at http://www.frys.com
About TPCAST:
TPCAST is the leader in wireless virtual reality solutions and the first to ship a commercial wireless adapter. The company vision is to free the VR world from cables and enable wireless operation of VR/AR/MR head-mounted displays (HMDs). The company's patented technologies allow highly efficient bi-directional communication between the PC and the VR HMD at near-zero latency. TPCAST's mission is to work with the VR Industry including HMD manufacturers, game developers, content providers, silicon manufacturers, and key VR technology providers, to deliver the best wireless VR experience to consumers and enterprises.