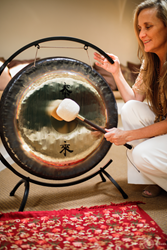 Stress reduction, deep relaxation and altered states of consciousness are available through sound healing vibrations
SEDONA, Ariz. (PRWEB) April 26, 2018
At the Shamangelic Healing Center in Sedona, Arizona, Energy Healer and Soul Guide, Anahata Ananada, skillfully masters a Paiste 24" symphonic gong to enhance the experience of Shamangelic Healing Journeys, breathwork ceremonies and chakra balancing sessions. "We live in a sea of vibrational waves, every day. Some of them, are not so pleasant," explains Anahata. By adding the melodic tones from the gong, sometimes played to sound like the songs of whales, Anahata creates a relaxing and balancing sound bath, which directly affects all people in its proximity. As a result, the clear sound of the complex overtones penetrates the physical body, down to the cellular level. In her healing room, Anahata incorporates tuning forks, singing bowls, drums and now the Paiste gong during her signature Shamangelic Healing Journey sessions. The gong is also now an integral addition in her Shamangelic Tailored Sedona Retreats, which provide a wide range of private sessions specialized to meet the requirements for core healing, spiritual awakening or individualized training.
Vibrational sound therapy is a widely accepted method of assisting the body to repair and balance. The benefits of sound therapy have been scientifically proven to stimulate circulation and endocrine glands, regulate hormonal functioning and generally affect all the cells in the body. When experienced in a healing session, one is more easily able to reduce stress and negative emotions, cope with life's challenges, improve sleep, and balance both hemispheres of the brain. This assists with increased flow of vital energy, intuition and motivation. Sound therapy sessions are sought out to recover from illness or trauma as well as for deep relaxation and changing old behavior.
The Shamangelic Healing Center offers a Healing Tools & Modalities Course twice a year to train people of all levels in how to use instruments for vibrational sound healing. It also explores the use of wind chimes, tuning forks, crystal bowls, essential oils and other healing tools. The next course is scheduled for October 2018.
Anahata Ananda has trained extensively with gifted shamans, energy healers and spiritual teachers from around the world to artfully integrate the fields of spirituality, energy healing, self-empowerment and shamanic teachings. Her client-base spans the globe with individuals from all walks of life who are seeking to heal and awaken to their fullest potential. She blends the compassion and tenderness of an Angel with the wisdom and strength of a Shaman, to guide clients through a journey of profound healing and awakening. Utilizing her Shamanic training, energy healing tools, and Spiritual teachings, Anahata masterfully creates a safe and loving space for inward transformational journeys to empower individuals to release their fears, open their hearts and reclaim their power. During her healing sessions, Anahata facilitates profound and lasting shifts that enable one's true radiance to shine in all areas of life.
Anahata offers a variety of Shamangelic Healing services year-round in Sedona, Arizona including private sessions, sacred land journeys and training courses that incorporate Shamanic teachings and other energy healing modalities. She also offers Tailored Retreats for individuals, couples and small groups that can include a combination of offerings based on various needs and areas of interest.
For detailed descriptions and a calendar of all training courses and spiritual awakening services offered by Anahata visit http://www.shamangelichealing.com/