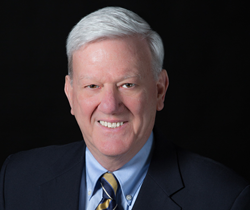 This expansion of services will help me better serve my clients because the programs are all specifically designed to help individual business owners, company leaders and sales professionals build a path toward their goals and take action to meet those goals. - Vernon Brokke
COLUMBIA, Md. (PRWEB) April 23, 2018
Vernon Brokke, the owner of The Growth Coach Chesapeake, is pleased to announce that he's now offering an extended suite of services through The Growth Coach's three new series programs.
As a Growth Coach, Brokke offers group and one-on-one coaching for business owners and leaders, managers, management teams, self-employed professionals, sales people and more. Now Brokke's services will be expanded into three distinct series – the Foundational Series, Fundamental Series and Fast-Forward Series. Here's a little about each new series, which include some existing programs as well as some new and expanded services:
Foundational Series
The Growth Coach was founded on the principal of driving success and balancing lives. This series includes some of The Growth Coach's most popular programs, including Strategic Business Owner, Strategic Manager and Sales Mastery. These programs are designed to help business owners and industry professionals embrace the Strategic Mindset Process to drive success and build more balanced lives by preparing business owners, managers and sales teams to think strategically in everything they do: selling, marketing, leadership, people management, sales habits and behaviors.
Fundamental Series
The Fundamental Series focuses on key opportunity areas within the organization to achieve maximum performance, development and results. The journey starts with self-discovery and continues through implementation to achieve business goals. Each module within this series includes four stages: a refresh of business knowledge, a strategic planning session, implementation and accountability. The programs in this series include Performance Management, Team Building and Teamwork, and Building High Performance Teams.
Fast-Forward Series
The Fast-Forward Series focuses on taking clients to the next level, achieving both their professional and personal goals. In this series, coaches are focused on helping clients with continuous improvement and business development by addressing specific topics to move their company forward. This series includes Strategic Mastery, Closing the Generation Gap, Emotional Intelligence, Value Path Plus, DISC, Strategic Business Planning and Leadership & Influences, some of which are in the final stages of development.
"This expansion of services will help me better serve my clients because the programs are all specifically designed to help individual business owners, company leaders and sales professionals build a path toward their goals and take action to meet those goals. It's about organizing what I do as a Growth Coach into a more effective program while building new services to meet the needs of my clients today and into the future," Brokke said.
The Growth Coach's mission is to help business leaders build more successful business and more balanced lives. The Growth Coach of Chesapeake serves Howard County and Southwest Baltimore County including Columbia, Catonsville, Arbutus, Fulton. Ft. Meade, and Laurel. The Growth Coach is the largest provider of affordable group coaching workshops in the nation.
Brokke has served small and large businesses in the Mid-Atlantic region for more than 35 years. Brokke's experience in sales, marketing and management has helped numerous companies grow and, in 2017, he launched Brokke Group and The Growth Coach. With those companies, he focuses on Growth Coach consulting, business development and his work as an Alternate Tax Solutions Advisor. His expertise in sales and management has been especially valuable to helping business owners and managers meet their personal and professional goals.
"I'm passionate about helping people do what they are doing in even better ways. I want them to build value into their company and get where they want to go by focusing on the end at the beginning. I ask, 'When you retire, where do you want to be?' and 'When you sell this company or pass it onto the next generation, what do you want the result to be?' Those are important questions when you're building strategic plans and thinking about the future of your business," Brokke said.
As a Growth Coach, Brokke is certified in The Strategic Mindset coaching process, which adheres to the standards, practices and policies that the International Coaching Federation has set forth in their Code of Professional Standards and Ethics. The company's landmark Strategic Mindset Process is so effective that it comes with a money-back guarantee.
The Growth Coach, founded in Cincinnati, Ohio, sold its first franchise in 2003, but its leaders have a successful 20-year track record of helping business leaders find success and balance. Today the business and sales coaching franchise is in more than 100 markets worldwide. The Growth Coach was included in Bond's "Top 100 Franchises" and recognized in Entrepreneur Magazine's "Franchise 500" and "Best of the Best," in USA Today and has been featured on FOX, CBS and NBC.
For more information about how The Growth Coach Chesapeake, call (443)545-4844, email VBrokke(at)TheGrowthCoach(dot)com or visit http://www.TheGrowthCoachChesapeake.com.