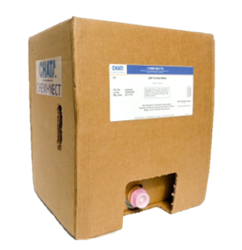 Lifecycle's innovative 20-liter CHEM+NECT Bags carries game-changing implications for the HPLC testing and mobile phase
FORT WORTH, Texas (PRWEB) April 24, 2018
Lifecycle Biotechnologies, a leading life science tools and services supplier, has announced the new 20-liter configuration of their CHEM+NECT System. Manufactured at Lifecycle's Chata Biosystems facility, the CHEM+NECT System utilized Lifecycle's evolutionary CHEM+NECT Bag technology and provides a cleaner and modernized alternative to cubitainers, large bottles, or carboys.
"The new 20-liter CHEM+NECT configuration is the intentional solution to a problem within a set of constraints HPLC users were facing," said Aaron Schieving, Director of Sales and Marketing for Lifecycle Biotechnologies. "We applied design thinking to these problems, offering mobile phase in 20-liter CHEM+NECT Bags to offer the size advantages of a cubitainer or carboys, but with the added benefit of a closed system delivery, compressible, pillow-style, eco-friendly design."
Designed to provide a closed-system delivery option of introducing reagents in a clean and more microbiologically controlled process, the CHEM+NECT System controls exposure of reagents to contaminants in the manufacturing process/lab and is a safer and more environmentally sustainable alternative to glass and plastic bottles. The 20-liter configuration is the latest addition to Lifecycle's CHEM+NECT System. CHEM+NECT Bags are available in 1L, 2L, 6L and 20L sizes and are ideal for processes that employ minor to intermediate volumes of chemicals, reagents, or medias. In addition, CHEM+NECT Drum Bags are available in 50L, 100L and 200L sizes and are ideal for intermediate to bulk volumes.
The 20-liter CHEM+NECT Bag addresses two specific problems commonly associated with mobile phase in smaller containers, or in cubitainers and carboys. An HPLC can run on a 5-liter volume of mobile phase for about 12 hours, requiring lab technicians to stagger their work shifts and come in on weekends to change out the bag for the testing to continue. The 5-liter version also only runs a single HPLC, which limits testing efficiency and adds to the number of change-outs. Though many have attempted to utilize cubitainers and carboys to overcome this problem, the solution itself posed problems since the process by which these containers are produced (via blow molding) is not sufficiently clean for HPLC testing. Additionally, these containers (being rigid, non-compressible structures) generate excessive waste and consume inordinate landfill space, making them environmentally unsustainable.
Lifecycle applied design thinking to these problems, offering mobile phase in 20-liter CHEM+NECT Bags as well sourced adaptors that allowed a single 20-liter bag to be hooked up to two HPLCs, eliminating the time- and money-wasting inefficiencies of the change-out process.
"Lifecycle's innovative 20-liter CHEM+NECT Bags carries game-changing implications for the HPLC testing and mobile phase," said Schieving. "By taking a breakthrough technology like our CHEM+NECT Bags and re-tasking it for this specific usage, we are addressing the challenges our customers face to meet modern needs." Schieving notes that "Be Relevant" is a core company value; this is a clear demonstration of precisely that.
To learn more about the CHEM+NECT System and to have your chemicals, reagents, or medias filled in this system, please contact Lifecycle Biotechnologies at info(at)lifecyclebio.com, 817.840.7855, or http://www.lifecyclebio.com.
Based in Ft. Worth, TX, Lifecycle Biotechnologies has served the life science industry for 40 years. Lifecycle's products are the beginning of the lifecycle of the lifesaving and life-enhancing medical products used globally today. As a leading life sciences tools and service supplier, Lifecycle fully understands the critical role its products play in many of the world's leading pharmaceuticals, medical devices, biologics, cell- and tissue-based products and many other medical products. While Lifecycle's products aren't used to diagnose, treat, or cure patients, without our contribution, none of this would be possible.