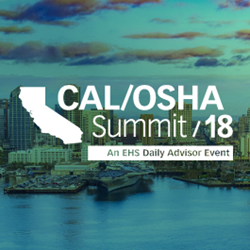 "Maintaining Cal/OSHA compliance isn't just important to avoid fines, but to protect the workers. When employees are injured on the job, it affects morale and worker continuity." - Amanda Czepiel, JD, senior managing editor of EHS for BLR
MIDDLETON, Mass. (PRWEB) April 25, 2018
BLR®, the leading provider of employment, safety, and environmental compliance information and technology, is pleased to announce that its annual Cal/OSHA Summit will return October 17–19 in San Diego, California.
Cal/OSHA Summit 2018 will empower employers to understand and abide by the stringent safety compliance requirements facing California employers. Through 2 days of expert-led sessions, plus an optional day of focused preconference sessions, attendees of Cal/OSHA Summit 2018 will learn how to protect their workers from some of the most common workplace injuries and prevent their organization from facing costly Cal/OSHA citations.
Attendees will learn practical, proven strategies for:

Acing Cal/OSHA inspections by learning tips for a successful walk-through
Protecting California workers from heat stress and illness, according to Cal/OSHA's strict requirements
Optimizing your return-to-work process
Accessing proven strategies to avoid the most common mistakes of Cal/OSHA's most violated standard on injury and illness prevention
Implementing high-impact strategies to get buy-in on your safety culture program, from management and staff alike
Uncovering safety incentives that other California companies have successfully implemented to drive low-risk behavior
And more!
"California has some of the strictest safety requirements," says Amanda Czepiel, JD, senior managing editor of EHS for BLR. "Maintaining Cal/OSHA compliance isn't just important to avoid fines, but to protect the workers. When employees are injured on the job, it affects morale and worker continuity. Being ahead of the game and ensuring your organization is compliant with the latest regulations is the easiest way to ensure you're running a safe and effective working environment."
The event will take place at the Hilton San Diego Mission Valley in the heart of San Diego, California. For more information, please visit calosha.blr.com.
About Simplify Compliance
Simplify Compliance helps its customers learn, comply, and succeed by providing mission-critical regulatory and business information, analysis, and tools. Serving a range of industries—including financial services, health care, human capital management, and telecommunications—Simplify Compliance provides timesaving products and solutions that help U.S.-based businesses and their employees monitor compliance, optimize financial performance, and create and implement best practices.
Simplify Compliance operates the Argosy Group, BLR, CCMI, and H3.Group business units.
About BLR
BLR (Business & Legal Resources) helps U.S. businesses simplify compliance with state and federal legal requirements. In-house experts and an exclusive attorney network provide comprehensive, reliable state-specific information for businesses in all 50 states. Award-winning products and solutions—including training programs, events, Web portals, reports, and subscription services—give businesses of all sizes and industries the best tools available at affordable prices. For more information on their offerings, visit http://www.BLR.com.
Contact
Kimberly St. Lawrence
Marketing Director | Events
BLR—Business & Legal Resources
35 Village Road
Middleton, MA 01949
860-510-0100, Ext. 3874
kstlawrence@blr.com
http://www.BLR.com