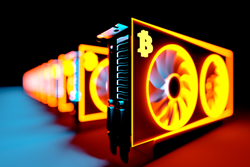 "Most cryptocurrency miners think it's easier, faster and cheaper to replace hardware as it burns up and fails. That's true at first. But as they attempt to scale, they start burning through equipment and money faster than they should." -- Rob Huttemann, SVP of Operations for CEG
GLASSBORO, N.J. (PRWEB) April 24, 2018
As the number of mid-to-large sized cryptocurrency mining operations expand or as large mining colocation companies become more prevalent, they all seem to realize that poorly planned capacity management directly affects long-term success. Power – and lots of it – is a necessity for the massive amounts of compute these operations generate. Subsequently, the cost of power consumption needs to be overcome by the value of the cryptocurrency being mined in order to become profitable.
What is often overlooked at startup are the air flow requirements necessary to effectively deliver the cool air and reject the massive amount of heat generated by the mining hardware. Critical Environments Group is one of only a handful of companies that are bringing this to the attention of new entrants, as well as providing air flow management solutions to extend the lifespan of equipment in various sizes used in mining operations. CEG is a leading provider of data center and critical environment infrastructure optimization solutions.
"The mindset most cryptocurrency miners have at startup is that it's easier, faster and cheaper to replace hardware as it burns up and fails," says Rob Huttemann, Senior Vice President of Operations for Critical Environments Group. "That's true at first. But as they attempt to scale, there's nothing in place to manage the space/layout, power, air flow and heat rejection requirements of a bigger operation. As a result, these companies are burning through equipment and money faster than they should."
CEG recently addressed this with a tech company that started "mining on the side." Their mining rigs were housed in a spare office and consisted of cobbled-together racks originally bought online. With material typically used for data center containment, CEG developed a solution that was unique to cryptocurrency – the ability to house the motherboard, GPUs, power supplies; just the right spacing between graphic cards to effectively remove heat; easy integration of hardware; scalability; and five-row AC units correctly sized for the room and heat load. With this solution, the company expects to extend the lifespan of their mining hardware, which will reduce the long-term cost of mining and allow for a repeatable deployment scheme as they scale.
"To be clear, investing in a custom cryptocurrency mining environment isn't for the enthusiasts or hobbyists wanting to mine on the side. For them, pre-fabricated racks are just fine," says Huttemann. "Our solutions are for the mining operation that's bigger than your basement but smaller than a commercial-scale operation. For those companies that fall somewhere in between, redesign of their existing space, along with a scalable setup is a must."
About Critical Environments Group
Critical Environments Group (CEG) enables its clients to effectively manage, maintain and optimize their data centers and other IT environments. We're meeting the needs of this rapidly evolving industry by achieving value for channel partners or end users throughout the data center lifecycle. CEG's team of experts is unmatched in its ability to provide intelligent assessments and solutions for achieving readiness, reliability and efficiency today and tomorrow.
CEG is the new, standalone organization that has been created because of DCiM Solution's 2016 acquisition of IIS Group. For more information about CEG and its combined comprehensive offerings, please visit http://www.criticaleg.com