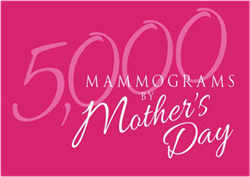 This campaign shows how little it takes to save a life.
COLUMBIA, Md. (PRWEB) April 24, 2018
The American Breast Cancer Foundation (ABCF) has partnered with the Celebrating Life Foundation to launch a national fundraising campaign entitled "5,000 Mammograms by Mother's Day." The goal of this campaign is to raise enough funds to purchase 5,000 mammograms for people in need before Mother's Day occurs on May 13. Donations will supplement the Breast Cancer Assistance Program (BCAP), which provides individual grants to those in need of early detection screening for breast cancer.
ABCF has already issued over 47,000 grants to help people who cannot afford early detection services. This targeted fundraising campaign will give the charity the opportunity to help thousands of uninsured and underinsured people pay for these vital health screenings. Donors now have the chance to contribute to the progress ABCF has already made by participating in this fundraiser and encouraging their friends and family to do the same.
Breast Cancer is highly treatable when caught in the early stages. "The 5-year relative survival rate for women with stage 0 or stage I breast cancer is close to 100%," according to the American Cancer Society. This fact is why ABCF and Celebrating Life take early detection so seriously. Protecting the mothers of the world from this life-threatening disease is paramount as we approach the national holiday honoring the sacrifices they make for their families.
"This campaign shows how little it takes to save a life," says Katherine Mele, Director of Development at ABCF. "Every donation helps fund a mammogram that could save a woman's life by catching the cancer before it spreads to other parts of the body."
"The Celebrating Life Foundation does an incredible job of empowering women to take charge of their health, and we are incredibly excited to have them on board," said Mele. "We could not have asked for a better partner." The Celebrating Life Foundation is a non-profit dedicated to educating Women of Color and other underserved populations about breast cancer and early detection methods.
"After dealing with breast cancer awareness targeting minority and medically underserved women for over two decades, I am still surprised by the mortality rate for women in these groups," says Sylvia Dunnavant Hines, the founder of Celebrating Life. "Many women wait much too long to get screened because they can't afford it. This campaign is essential to help us make a difference in the lives of these women."
Supporters who want to participate in the campaign can donate through ABCF's website, http://www.abcf.org/donate. The campaign will run until Mother's Day, May 13, 2018.
About American Breast Cancer Foundation:
The American Breast Cancer Foundation (ABCF) is a national 501(c) 3 charity dedicated to providing educational resources, access and financial assistance to aid in the early detection, treatment and survival of breast cancer for underserved and uninsured individuals, regardless of age or gender. This mission is achieved, in part, by the Breast Cancer Assistance Program (BCAP), the Community Partnership Program and the Community Advocacy Program. ABCF started these programs with the goal of reducing disparities in access to breast cancer diagnostic and treatment services for underserved populations across the United States. ABCF is headquartered in Columbia, Md. For more information, please visit: http://www.abcf.org.
About Celebrating Life Foundation:
The Celebrating Life Foundation is a non-profit organization devoted to making cancer powerless by educating, encouraging and empowering the African American Community, Women of Color and the medically underserved about the risks of breast cancer. This non-profit organization, led by Sylvia Dunnavant Hines, has developed and distributed over a million breast self-exam cards to churches and civic organization across the country. The organization has also worked with major corporations across the country and has assisted health education projects in the Virgin Islands, Africa, Ghana and the Netherlands.