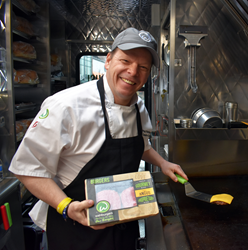 "In all our restaurants and now in our new retail product, we offer a custom blend of angus brisket, chuck and short rib for great texture and flavor" - Chef Paul Wahlberg
BOSTON (PRWEB) April 24, 2018
Wahlburgers, the popular fast-casual restaurant brand founded by brothers Paul, Donnie, and Mark Wahlberg, along with other investors, has collaborated with ARKK Food Company to develop a retail beef program. The line of consumer products will include ground beef, pre-formed patties, pre-formed sliders, and brick pack, all made with the same proprietary Wahlburgers angus blend of brisket, short rib and chuck, found in its restaurants across the country.
"In all our restaurants and now in our new retail product, we offer a custom blend of angus brisket, chuck and short rib for great texture and flavor. We wanted to provide the best cuts of angus beef that's always fresh, never frozen to ensure that every bite is tender, juicy, and packed full of rich flavor," said Executive Chef Paul Wahlberg.
The new retail beef products will be available at grocery store locations nationwide, with an initial launch over the next 30 days at:
Hy-Vee, Jewel-Osco, Acme, Safeway, Shaw's and Winn-Dixie.
Over 1,300 stores within the following states are set to receive the product:
Alabama, Connecticut, Delaware, Florida, Georgia, Illinois, Indiana, Iowa, Kansas, Louisiana, Maine, Maryland, Massachusetts, Minnesota, Mississippi, Missouri, Nebraska, New Hampshire, New Jersey, New York, Pennsylvania, Rhode Island, South Dakota, Vermont, Virginia, Washington DC and Wisconsin.
"The brothers and I are all excited to bring a taste of Wahlburgers to stores and ultimately homes across America with our new "Wahlburgers at Home" product line, and we thank our great retail partners for their commitment to the launch," said CEO Rick Vanzura.
Customers will be able to get a taste of the Wahlburgers experience from the comfort of their own kitchens. Wahlburgers is making it easier than ever for fans to whip up their family recipes using Wahlburgers signature beef blend. Whether it's for a backyard barbecue or Sunday dinner, Wahlburgers is committed to helping families make lasting memories over good food.
Click Here for High Resolution Photos
Media Contact
Wahlburgers Corporate
Allied Integrated Marketing
wahlburgers(at)alliedim(dot)com
Follow us:
@wahlburgers (Facebook, Twitter, Instagram, Youtube)
@wahlburgersathome (Facebook, Instagram)
Learn more about Wahlburgers at http://www.wahlburgers.com
Learn more about Wahlburgers at Home & Find a Store Near You at: http://www.wahlburgersathome.com