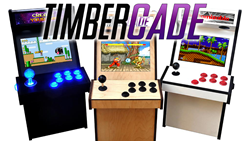 "We have succeeded in creating a singularity in retro-gaming by incorporating every system with every game into a package that will fit in every home."
SHERWOOD, AR (PRWEB) April 24, 2018
The TimberCADE is a 24-inch tall, miniature replica of a stand-up arcade machine, with full sized controls and many one-of-a-kind features. It can play more than 4,000 arcade games including classics like Asteroids, Pac-Man, Mortal Kombat, Street Fighter 2 and NBA Jam and virtually every game from your favorite system. Switching between games is simply a matter of selecting through your personal catalog and pressing start. This is the solution for retro-gamers to play all their favorite games, with their favorite controllers all in one place.
Courtney Kinggard, President of Maker Girl, LLC explains: "We have always wanted the real arcade experience that works in a home environment. Buying a traditional arcade has a number of caveats, cost, size, limitation to one game and scarcity, that needed a solution. We designed the TimberCADE to fit in any size home or apartment but maintain the nostalgic thrill with real, original joysticks and buttons as well as a beautiful screen and powerful speakers. One machine can play every game you remember from your childhood without breaking the bank. We wanted the TimberCADE to be beautiful and fit with every home's decor so it is available in a large selection of colors and finishes. No expense was spared to bring the most authentic arcade experience to your home. You are truly buying the best in the business."
While the TimberCADE comes with built in authentic arcade controls it also supports up to 7 additional controllers of your choosing for 8 player simultaneous play. Just plug them in and they are ready to go. It also uses our proprietary Timbercast technology to connect to any TV and display the action on both the TV and the built in screen simultaneously. This is a game changer, so up to 8 people can play their favorite, classic games, using their favorite controllers on their choice of screens.
"We have succeeded in creating a singularity in retro-gaming by incorporating every system with every game into a package that will fit in every home."
What Sets it Apart?
Factory Quality Cabinet Finishes: The TimberCADE is available in a urethane finished maple, white and black. These finishes are applied at the factory by robot and are perfect, durable and beautiful. There are no streaks, fish eyes, or even worse, bare wood in this product.
Fully Assembled w/ No Exposed Fasteners: The TimberCADE has ZERO exposed fasteners and comes to you FULLY ASSEMBLED and tested. This is possible because each piece is precision CNC cut for the best fit possible. This isn't a DIY, self finished kit. It's a real, finished, commercial product. Just open the box, plug it in, load a game and play.
Exclusive TimberCAST Technology: Playing on a small screen with friends just doesn't work so just connect the TimberCADE via HMDI to any HDTV and play on the bigscreen...and on the small screen at the same time. Plug and play, no configuration is necessary.
Made in the USA: Maker Girl, LLC is a woman owned and operated company. Each TimberCADE is assembled by hand and tested and packaged by technicians that are payed a good living wage in the USA
Purpose Built, Pixel Perfect LCD Screen: Perfect Scale Aspect Ratio Technology Choose from 4:3 or 16:9 aspect ratios for ANY game. The TimberCADE's special 10″ LCD screen eliminates distortion or warping for pixel perfect, full screen action. The high resolution LCD screen scales classic games on a pixel by pixel basis and is designed to bring the classic pixel art to life just the way you remember it. Typical LCD screens look blurry or 'soft' when playing classic games but not so with the TimberCADE where each pixel is absolutely perfect and crisp.
Back-Lit Customizable Marquee
High-End Stereo Sound & Amplifier
Dimensions:
Length:11 Inches
Height: 23.25 Inches
Width: 11.5 Inches
Weight: 15 Pounds
About Maker Girl, LLC
Maker Girl was founded by Courtney Kinggard in 2016 to offer low cost, high quality commodities that are essential to the Maker in all of us. From ball bearings to low voltage fans Maker Girl has been the go-to source for inexpensive, high quality electronic parts. We wanted a way to make our passion for making into a business. Timbercade is our first in house, finished product that was born from our passion for all things gaming related.
Press Contact
sales(at)timbercade.com
sales(at)makergirlusa.com