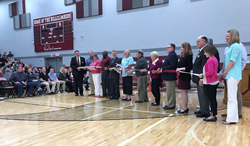 Urbana, OH (PRWEB) April 23, 2018
Officials from Urbana City Schools and Gilbane Building Company came together on Sunday afternoon to celebrate the official building dedication and ribbon cutting ceremony for the newly completed Urbana High School, a project that will transform district schools for future generations to come. This project is a critical step in ensuring the children in the Urbana district have school facilities that support academic development, collaboration and success.
Gilbane served as construction manager at-risk for the $67.3 million project including the new 87,000 SF high school that will house approximately 480 students in grades 9-12. The project also included the construction of a new 180,000 SF elementary/middle school to house the PK-8 student population, which has a projected enrollment of 1,527 students. The PK-8 building will open later this year. Both buildings were designed to achieve LEED Silver Certification.
"Our project team has enjoyed the working relationship we've developed with Urbana School District, OFCC, Fanning Howey and the community of Urbana on this project. This has been an extremely successful project on many levels, and we look forward to continuing this partnership as we complete the PK-8 project across town and get the demolition and site work wrapped up here at the high school." said Matt Niemeyer, Gilbane Building Company Project Manager
About Gilbane Building Company
Gilbane provides a full slate of construction and facilities-related services – from pre-construction planning and integrated consulting capabilities to comprehensive construction management, general contracting, design-build and facility management services – for clients across various markets. Founded in 1873 and still a privately held, family-owned company, Gilbane has 46 office locations worldwide. For more information, visit http://www.gilbaneco.com. Gilbane has been providing construction management services in Ohio since 1959.