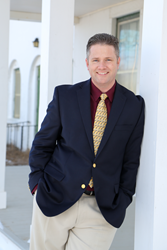 SAG HARBOR, N.Y. (PRWEB) April 24, 2018
Haute Residence welcomes John Brady to its prestigious real estate network. As a Haute Residence partner, Brady exclusively represents the high-end real estate market in Sag Harbor, New York.
Brady grew up in Montauk, graduated in 1996 from East Hampton High School, and went to SUNY Maritime Merchant Marines to study Mechanical Engineering. Prior to real estate, Brady owned a marketing company in Mexico along with his wife, Paty Brady.
Brady has been nothing but a top producer since he got in the business, having sold some 500 homes over 12 years, when the industry has averaged six a year. He has been inspired by many including his mother, Carol Brady, who owned Brady Realty out of Montauk and his late father and mentor, Jim Brady, whom was also a very successful realtor in southern Florida. John has also hired the most successful real estate trainers in the industry who have given him accountability to his buyers and sellers. John continues to be trained on a weekly basis. He also contributes his success to the Merchant Marines, which taught him the discipline that he needed to do anything in life.
Since 2006, when Brady got into the business, he has been noticed in Fox Business Channel with Neil Cavuto, BBC, Craine's Business Week, Financial Times, NY Post, London Daily Telegraph, Dan's Paper, The Independent, East Hampton Star, Social Life Magazine, the front page of the Southampton Press, as well he has been featured in the Hamptons Real Estate Showcase Magazine.
He studies the market like a stock broker studies stocks. He says, "as an expert, it is my responsibility to know the numbers." Brady is a firm believer that you can't truly know your market unless you work all aspects of the market. This includes new construction, luxury homes, Land, Developments, First time home buyer programs and financing, foreclosure (REO) and short sales (default servicing). Since 2006, he has been responsible for 50-70 new transactions every year when the national average per agent is 4-6 transactions per year.
On his time off, he enjoys spending time with his family, sailing and studying classical piano.
About Haute Residence:
Designed as a partnership-driven luxury real estate portal, Haute Residence connects its affluent readers with top real estate professionals, while offering the latest in real estate news, showcasing the world's most extraordinary residences on the market and sharing expert advice from its knowledgeable and experienced real estate partners.
The invitation-only luxury real estate network, which partners with just one agent in every market, unites a distinguished collective of leading real estate agents and brokers and highlights the most extravagant properties in leading markets around the globe for affluent buyers, sellers, and real estate enthusiasts.
HauteResidence.com has grown to be the number one news source for million-dollar listings, high-end residential developments, celebrity real estate, and more.
Access all of this information and more by visiting: http://www.hauteresidence.com