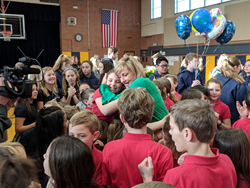 Andrew Friedman, President and CEO of Learning Ally says, "These students and teachers inspire us to keep providing and developing the best solutions we can to support more students with learning differences to succeed."
PRINCETON, N.J. (PRWEB) April 24, 2018
Learning Ally, a leading nonprofit ed-tech organization delivering a comprehensive learning solution for struggling readers with learning disabilities is pleased to announce the teacher and student winners of the 2018 National Achievement Awards (NAA).
Each year, Learning Ally receives hundreds of nominations for three endowed scholarships to recognize exemplary students for their academic and personal achievements.
The organization also recognizes U.S. teachers who go the extra mile to ensure that all struggling readers with learning disabilities rise to their academic potential and life pursuits through access to human-read audiobooks.
Any Learning Ally student member or teacher who meets the eligibility criteria may submit an application to a national selection committee who oversees the application review process. The winners of the three award programs receive a financial scholarship and public recognition.
Winslow Coyne Reitnouer Excellence in Teaching Award
Co-teachers, Katherine Young and Elizabeth Hauser, of Grayslake North High School, District 127, IL, are the top teacher winners of this prestigious award. Katherine, a Speech and Language Pathologist and Elizabeth, a Reading Specialist, were selected for their unique hands-on approach and collaboration in the classroom to help more students reach higher levels of achievement and learning independence. Each received a $1500 cash award and $4000 for their school.
In addition to the top winners, these U.S. K-12 teachers are also honored for their exemplary teaching. Each received a cash award of $1200 each and $500 for their school:

Cathy O'Hollearn, Learning / Reading Specialist, Good Shepherd Catholic School at the Denver Archdiocese
Nelda Reyes, Learning / Reading Specialist, DeZavala Elementary School, (CISD) San Marcos Texas
Stacy Webster, General Education Teacher, Stephen F. Austin High School, Texas
Paige Morra, Teacher of the Visually Impaired, Wells Elementary School, Plano ISD, Texas
Marion Huber Learning Through Listening Award
The recipients of this award are Learning Ally high school members with learning differences, such as dyslexia, who require accessible audiobooks to comprehend complex information and study on grade-level. The top 2018 student winners are:

Adrianna Mowrer, Perkiomenville, PA - Adrianna is a freshman at Penn State majoring in animal science. She aspires to practice veterinary medicine. "Having dyslexia and the freedom to access the world of learning through Learning Ally removed boundaries for me and enabled me to pursue a dream I once thought to be impossible to achieve."
Analyssa Morales, Highlands Ranch, CO - Annalysa graduated from high school with a 3.9 GPA and received a scholarship to Flagler College in Florida to study Education for the Deaf and Hard of Hearing. "Before I found Learning Ally, reading was always, "I can't. I can't. I can't." The first audiobook I read was my first "I can!" I was like a superhero that had suddenly discovered their power and abilities. Now, I want to inspire the personal growth and achievements of other children who learn differently."
Justin Purvis, Scotch Plains, NJ - Justin plans to attend the Kubert School of Arts to pursue a career in graphic and comic design and illustration. In school, he endured ridicule and bullying about his dyslexia and learning differences, but Learning Ally became a turning point for him through the ability to access curriculum in the form of accessible human-read audiobooks. "Learning Ally made my life easier. I no longer dreaded reading assignments and was able to embrace my gifts and knowledge. Human-narration brought the words in context and the stories to life for me."
These students also received special recognition in the Marion Huber Learning Through Listening Award category:
Kelly Roberts, Coral Gables, FL
Navah Berner-Kadish, Tacoma Park, MD
Miranda Sinsheimer, Berkeley, CA
Terrie Noland, Learning Ally's National Director of Educator Engagement said, "Each student who receives this recognition has surpassed some incredible challenges -- physically, mentally and culturally -- and rose to the highest standard of excellence. They demonstrate courage, tenacity and inspiration to all of us at Learning Ally and their peers."
Mary P. Oenslager Scholastic Achievement Award
The top winners of this scholarship award are college undergraduate and graduate students who are blind or visually impaired and have faced tremendous challenges.

Melissa DeRoche, Gramercy, LA - Melissa was born with congenital cataracts and underdeveloped eyes. In junior high, she lost her vision after experiencing retinal detachment. Despite these challenges, Melissa went on to receive a B.A. in psychology and a M.Ed. in human services counseling at the University of New Orleans. She earned her Ph.D. in counselor education and is now an Assistant Professor in Counseling at Troy University in Alabama. Melissa cites Learning Ally services as being "crucial" to her personal, educational, and professional successes. "Learning Ally enables anyone with print disabilities to effectively compete in academia and the professional world. I cannot think of a more effective resource."
James Boehm, Nashville, TN - James was a successful entrepreneur until the economy turned south in 2009 and he lost his vision. With the support of Learning Ally, he graduated with honors and was accepted into the Peabody College of Vanderbilt clinical counseling program. "I would not have transitioned from a life of uncertainty to a life of achievement and self-confidence if it were not for Learning Ally."
Reem Hamodi, Aurora, CO – Reem faced many challenges in her home country of Iraq. As a child who was blind, there were few services and resources available. Her mother recorded all of her books. Moving to America as an ESL student, Reem found Learning Ally audiobooks with human narration to enhance her ability to understand complex math concepts and to learn to speak English. Today, she attends the University of Colorado, Denver and volunteers as a crisis counselor. She is working towards her PHD degree in psychology with the goal of becoming a professor and a counselor. "Learning Ally was a great tool for me. I became an independent reader and learner. My life is now forever changed!"
Andrew Friedman, President and CEO of Learning Ally says, "These students and teachers inspire us to keep providing and developing the best solutions we can to support more students with learning differences to succeed. Thanks to the generosity of our donors and their families, we can continue to provide our members with scholarships that can advance their education and career goals in whatever they set out to do."
For information about supporting students who learn differently, visit http://www.learningally.org/educators or call 800-221-1098 to request a demo.
About Learning Ally
Learning Ally is a leading nonprofit ed-tech organization delivering a comprehensive learning solution for struggling readers in elementary, middle, high schools and colleges. Our proven solution includes an extensive library of human-read audiobooks that students want and need to read at home and at school, along with a suite of teacher-focused resources that ensure student success. This reading experience helps accelerate learning, enables a new level of access to knowledge and powerfully increases confidence and self-belief.
Learning Ally successfully partners with more than 13,000 U.S. schools, districts and leading state education systems across the country to empower over 300,000 students with improved comprehension, vocabulary, fluency, critical thinking skills and learning independence. For over 70 years, the organization has helped to transform the lives of struggling readers by bridging the gap between their reading capability and their academic potential to become confident, lifelong learners who thrive in school and beyond.