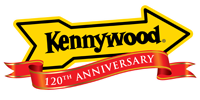 "While we put great value on history, tradition and nostalgia here at Kennywood, the ability to innovate and deliver the newest thrills is critical to our continuing success," says General Manager Jerome Gibas. "Both Thomas Town and Sky Rocket VR show ways we look to stay on the cutting edge."
WEST MIFFLIN, Pa. (PRWEB) April 25, 2018
Kennywood's 120th Season Begins Saturday, April 28
Season Passholders first to enjoy landmark year, park opens to general public May 5
There's no denying it's been a long and lonely winter. But with May on the way in, Kennywood returns to brighten life up!
Kennywood begins its 120th Anniversary Season at 11 a.m. on April 28, part of a Season Passholder-exclusive preview weekend before fully opening to the public on Saturday, May 5. Daily operations begin on May 24.
The anniversary party kicks off early with a special admission price of $18.98 on Sunday, May 6 in recognition of the year of Kennywood's founding. The month of May will also include two new special events: a Ribs & Blues Festival over Memorial Day weekend (May 27-28), and Thunderbolt Week (May 28-June 3) in honor of the 50th anniversary of the opening of The King of Coasters. Admission for guests age 50 and older will be $19.68 throughout that time period, marking the year Thunderbolt opened.
"Even in a park full of beloved, classic rides, Thunderbolt stands out," says General Manager Jerome Gibas. "We're excited to celebrate it and look forward to its next 50 years thrilling riders."
Along with celebrating the past, Kennywood plans for the future. Construction on new themed attraction, Thomas Town™ at Kennywood, continues along for its planned summertime opening. And after test run last fall during Phantom Fright Nights, Sky Rocket's virtual reality (VR) add-on is ready for rides from a wider audience.
Sky Rocket's riders will be able to choose between the thrilling coaster known for launching from 0 to 50 miles per hour in three seconds, or enhancing the ride experience by donning VR headsets to enter a lifelike world painstakingly programmed to match the sensations produced by the roller coaster.
"While we put great value on history, tradition and nostalgia here at Kennywood, the ability to innovate and deliver the newest thrills is critical to our continuing success," says Gibas. "Both Thomas Town and Sky Rocket VR show ways we look to stay on the cutting edge."
Four riders per train (which seat 12 guests) can upgrade to experience the ride while donning a Samsung Gear VR headset.
For information on Kennywood's schedule, admission prices, discount opportunities, special events and more, visit http://www.Kennywood.com or contact the park at 412-461-0500.
About Kennywood and Palace Entertainment:
Kennywood is America's Finest Traditional Amusement Park! The Pittsburgh-area park offers a unique mix of classic rides and modern thrills, including seven roller coasters, a 14-ride Kiddieland, and several attractions that cannot be found anywhere else. Kennywood, founded in 1898 and named a National Historic Landmark in 1987, continues to provide unforgettable fun for all ages.
Kennywood is owned and operated by Palace Entertainment, one of the leading leisure park operators in the United States. Palace Entertainment owns and operates 21 major entertainment venues across 10 different states, offering a wide range of family friendly rides, shows and attractions. For more information, please visit kennywood.com, or connect with us on Facebook, Twitter, and Instagram.