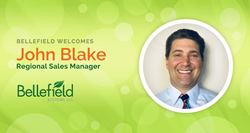 I am thrilled to be part of the Bellefield team. Having spent almost a decade in legal technology, I look forward to continuing to work in this space and am motivated to connect Bellefield's current and future customers with solutions that will improve results for the firm
PITTSBURGH (PRWEB) April 24, 2018
Bellefield Systems, the providers of the fastest path to revenue through its time entry solutions, announced John Blake as Regional Sales Manager for the West Region. John brings over 25 years of business experience to Bellefield, including nearly a decade in legal technology. In his role of Regional Sales Manager, John is responsible for driving growth for Bellefield and its customer base, assisting firms with identifying the right solutions to improve accuracy in time entry and billing in order to prevent revenue loss and increase competitiveness.
"We are excited to welcome John Blake as Regional Sales Manager for Bellefield," stated Gabriela Isturiz, President. "At Bellefield, we are constantly seeking ways to help our customers improve timekeeping behavior in order to prevent lost time, reduce write-offs, increase revenue and improve collection realization. John's extensive experience in the legal industry and alignment with our core values are a natural fit for both Bellefield and our current and future customers."
Prior to joining Bellefield, John served as the Regional Sales Manager for Thomson Reuters Elite/eBillingHub and West Law, where he was instrumental in growing the Western/Central client base.
"I am thrilled to be part of the Bellefield team. Having spent almost a decade in legal technology, I look forward to continuing to work in this space and am motivated to connect Bellefield's current and future customers with solutions that will improve results for the firm."
Bellefield is thrilled to have John on board and looks forward to a prosperous future.
About Bellefield Systems & iTimeKeep
Bellefield provides the fastest path to revenue by removing barriers to time entry for attorneys and law firms. Through the iTimeKeep platform, Bellefield brings better timekeeping to any law firm or professional services firm by increasing attorney engagement, providing real-time compliance with outside counsel guidelines and enabling firms to manage their time entry policies. In an area that was long disregarded and accepted as a "cost of doing business," Bellefield's innovations are bringing about efficiencies that allow firms to achieve the best timecard inventory, leading to less rejections, increased compliance and maximum client satisfaction.
Bellefield was founded with one simple (yet powerful) purpose: create better timekeepers. iTimeKeep ranks #1 as the most adopted Mobile (and anywhere) Time Entry solution for attorneys for five consecutive years. Bellefield's founding members include the former founders of eBillingHub (now Thomson Reuters ™), Gabriela Isturiz and Daniel Garcia and software veteran, John Kuntz. Bellefield Systems is an independent, privately held company headquartered in Pittsburgh, Pennsylvania. To learn more, visit http://www.bellefield.com