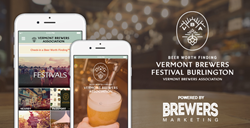 We've seen growth on our end from people who are visiting our brewers' pages on our website and people who are requesting the passport. It's a significant contributor to our tourism industry.
BOCA RATON, Fla. (PRWEB) April 26, 2018
Brewers Marketing has been tapped by the Brewers of Pennsylvania to develop a new mobile app offering an interactive, immersive way for both residents and visitors to experience the Commonwealth's craft breweries. The app will be funded by a recently approved grant from the Pennsylvania Liquor Control Board (PLCB) to the Brewers of Pennsylvania.
Brewer's Marketing's apps are designed to help craft beer aficionados discover and engage with breweries in their area. With the apps, branded and customized for each local guild, users can follow a self-guided beer trail map, check in with local breweries, earn loyalty points at selected breweries, and see the offerings at upcoming beer festivals. Participating breweries can upload information such as logos, hours of operation, beers on offer, and more.
Pennsylvania's brewers and public agencies are both looking forward to enjoying similar benefits as brewers' guilds in Ohio, Massachusetts, Vermont, New York and Washington, which are currently using Brewers Marketing apps and reporting great results.
"With 300 licensed breweries and a 300 percent increase in breweries in the past six years alone, brewing beer is a $5.8 billion industry in Pennsylvania," said Agriculture Secretary Russell Redding. "The grant the PLCB awarded today paves the way for continued growth in Pennsylvania's malt and brewed beverage industry."
"Brewing beer is an important, growing industry for Pennsylvania's economy," said Governor Tom Wolf. "This grant [to build a beer app] builds on the bipartisan efforts to modernize our beer laws and support the industry to create job opportunities from the farm to the brewery, pub, and grocery store."
Vermont is also upgrading its popular beer passport program from paper passports to their mobile app, in part because of the proven success of Brewers Marketing apps in other states. "[Those states] have very solid statistics about how it increased taproom traffic, especially in the more rural areas of the states," said Melissa Corbin, executive director of the Vermont Brewers Association.
"The app has been live for a month now, and the feedback we are getting from our beta users has been phenomenal," Corbin added, noting that the app initially logged "fifty [downloads] overnight with no marketing."
Development of the Vermont app also came with financial support from regional governmental and business advocacy groups, who understand the app's potential to enhance the state's tourism economy. "We are really proud of the platform we have built and the experience both locals and tourists can get from engaging with the Vermont Brewery Challenge," Corbin added. "This project was made possible due to the support from the state's Department of Economic Development and the Department of Tourism and Marketing, with a portion of the cost of the app being funded by a grant from the Northern Border Regional Commission (NBRC). Commissioners at the helm of these departments recognize the craft beer industry as a key player in our state's tourism and value our economic impact."
"We are very pleased to see that NBRC grant funds have been put to such a great use," said Vermont Department of Economic Development Commissioner Joan Goldstein.
"The app allows the Vermont Brewers Association to provide a dynamic tool that gives beer enthusiasts the ability to see brewery offerings, specials, and information in real time."
Steven Cook, deputy commissioner of the Vermont Department of Tourism and Marketing, agrees, noting that records of user check-ins on the Vermont app also give tourism planners useful feedback on the popularity of different breweries or events to help them better plan their marketing.
The popularity of the apps with users is consistent with the growing interest in craft beer in general and unique, local brews in particular. "What we've seen, at our end, is the interest in craft beer has really brought a lot more attention to our state amongst the things we've always been well known for — like our skiing, our hiking, and our recreation," Cook said. "We've seen growth on our end from people who are visiting our brewers' pages on our website and people who are requesting the passport. It's a significant contributor to our tourism industry."
Other states have likewise reaped the economic benefits of Brewers Marketing apps. In 2017, the Ohio On Tap app created for the Ohio Craft Brewers Association won the prestigious RUBY award from the Ohio Travel Association for outstanding innovation in marketing destinations, experiences, or services.
The Washington Beer Commission has experienced similar success with its app, according to Executive Director Eric Radovich. "In a span of 10 months we've had 6,139 downloads. We have a 3,900-member Washington Beer fan club that can collect 'stamps' on this mobile app as they visit different Washington breweries," Radovich said. "To date more than 33,000 stamps have been collected. Since each stamp collected is worth two pints of beer, that's 66,000 pints!"
Another benefit is the data collected from their app provide useful insights for tourism promotion, Radovich said. "We are able to track which breweries and how many stamps at each have been collected."
For more information, contact Rick Griswold at 561-990-1625