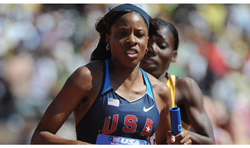 We are lucky to have a coach like Hazel lead our Nike Running Camps.
SAN RAFAEL, Calif. (PRWEB) April 26, 2018
The Nike Clark Family Running camp staff include Hazel, Jearl Miles Clark a 5 time Olympian, Joetta Clark a 4 time Olympian, JJ Clark a 22 time Coach of the Year with numerous NCAA Champions, and lastly Dr. Joe Clark Jr the patriarch of the family and subject of the movie Lean On Me. As evidenced, the Clark Family Running ties extend deep.
"We are lucky to have a coach like Hazel lead our Nike Running Camps," says VP of Nike Running Camps, Renee Chapman. "With such experience, poise, and dedication to campers it is no surprise that runners return to these camps year after year."
What is new this summer of 2018 is the addition of a Nike Clark Family Running Camp in Winter Park, Florida. This new location features the same staff and is set to take place at Showalter Stadium from June 4th to June 7th. Camp is open to cross country and track & field runners of all abilities. Hazel is also set to return for another year of camp at the Pennington School in New Jersey from July 8th-July 12th as well as at the Hackley School in New York from July 16th-July 19th. Both camps are open to runners ages 10-18 looking to improve in either cross country or track and field.
Campers, Parents, and Coaches interested in receiving more information regarding the 2018 Nike Clark Family Running Camps can visit https://www.ussportscamps.com/news/running/ or call at 1-800-645-3226.
About US Sports Camps
US Sports Camps (USSC), headquartered in San Rafael, California, is America's largest sports camp network and the licensed operator of Nike Sports Camps. The company has offered summer camps since 1975 with the same mission that defines it today: to shape a lifelong enjoyment of athletics through high quality sports education and skill enhancement.