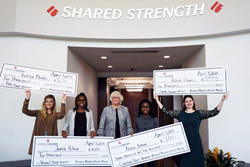 DULUTH, Ga. (PRWEB) April 24, 2018
Georgia United Credit Union is proud to announce the winners of their 2018 scholarship programs. A total of $27,500 has been awarded to four high school seniors through scholarships named for the credit union's founder, Vernon E. Carne and notable board members Geraldine Tilson, Dorothy Dusenberry Pirkle and Polly Hinde.
This marks Georgia United's 24th year of awarding scholarships to deserving students. This year's recipients were chosen based on a video competition with consideration given to academic accomplishments, leadership and participation in both school and community activities.
Congratulations to the 2018 winners:
Jamila Pellum is the Vernon E. Carne winner of a $10,000 scholarship.
Pellum is a senior at Fayette County High School and is a member of various academic and community service organizations such as Parliamentarian of the National Honor Society, Vice President of the National Beta Club and is a member of the National Spanish Honor Society and the Science National Honor Society. She is a Georgia Merit Scholar, AP Scholar, High Honors recipient and served as a Junior Marshal. In addition to her academic accolades, she is a member of the top chorus at Fayette County High School and participated in the District VI Honor Chorus. Pellum is the daughter of Reginald and Cheryl Foster and Frederick Pellum, Jr. She plans to attend The University of Alabama at Birmingham to major in nursing.
Alisha Zamore is the Geraldine Tilson winner of a $7,500 scholarship.
Zamore is a senior at McIntosh High School in Peachtree City. She is an active musician in the Atlanta Symphony Youth Orchestra, Atlanta Youth Wind Symphony, Southern Crescent Symphony Orchestra and the Atlanta Symphony Orchestra's Talent Development Program. Last year, her Mozart Clarinet Quintet won first place at the first annual Franklin Pond Chamber Music competition. This summer, she will be joining the National Youth Orchestra on their performance at Carnegie Hall and tour of China, South Korea and Taiwan. Zamore is the daughter of Lector and Jackie Zamore.
Jessica Stevens is the Dorothy Dusenberry winner of a $5,000 scholarship.
Stevens is a home school student from Cumming and is currently dual-enrolled at Kennesaw State University in the Honors Program where she has been named to the Dean's List. She is a member of the district honor band and district honor chorus this year. She is also a member of the Eta Sigma Alpha National Honor Society. Each summer Stevens serves as a family partner volunteer with Lighthouse Family Retreat, a preschool childcare volunteer each week at her church, a student leadership coalition volunteer at her fine arts school, a service project volunteer with her national honor society and as a volunteer each summer at vacation Bible school. She is the daughter of Rich and Diane Stevens. Stevens plans to attend Kennesaw State University in the fall and major in architecture.
Kathryn Madden is the Polly Hinde winner of a $5,000 scholarship.
Madden is a senior at South Forsyth High School. She is a member of various academic and community service organizations such as Vice President of National Honor Society, competing in DECA marketing competitions, volunteering with special needs students, MD Junior club, serving as an ambassador to incoming freshman students and running on the cross country team. Outside of school she enjoys volunteering at church, spending time with friends and family and playing and watching sports. Madden is the daughter of Brian and Elisabeth Madden. She plans to attend the University of Georgia where she will major in Human Development and Family Science, with a pre-nursing intent.
As a credit union founded by DeKalb County School educators, Georgia United is proud to continue to offer financial support to young members planning to continue their education after high school this fall.
About Georgia United Credit Union
Georgia United Credit Union is ranked as one of the top credit unions in Georgia with over $1.2 Billion in assets, 160,000 members and 19 branch locations. As a full-service community minded financial institution, they offer competitive products and services including financial literacy programs for all ages to help members achieve their financial goals. Visit gucu.org to learn more or follow the credit union on Facebook at facebook.com/GeorgiaUnitedCU, Twitter @GAUnitedCU and Instagram @gucucares.