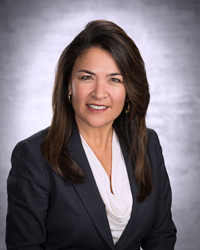 "I am pleased to welcome Jennifer to the AMHI team," said Graf. "She is a valued leader in our organization and has demonstrated her ability to develop outstanding solutions that fulfill the needs and mutual success of Amerisure and its PFS agencies."
FARMINGTON HILLS, Mich. (PRWEB) April 24, 2018
Amerisure Mutual Holdings, Inc. (AMHI) announces the promotion of Jennifer DeMello-Johnson to vice president, agency services. She will report to Dan Graf, chief investment officer.
In her new role, DeMello-Johnson will identify, create and implement critical non-insurance business services, offered through Amerisure's Partners For Success® (PFS) program, that drive profitability and organic growth for all Amerisure partner agencies. She will also continue to be part of Amerisure's customer engagement team.
"I am pleased to welcome Jennifer to the AMHI team," said Graf. "She is a valued leader in our organization and has demonstrated her ability to develop outstanding solutions that fulfill the needs and mutual success of Amerisure and its PFS agencies."
DeMello-Johnson joined Agency Services Group, a subsidiary of Amerisure Mutual Holdings, Inc., in 2008 as assistant vice president, agency services, and transitioned to Amerisure's customer engagement team in 2016. During her tenure, she has developed Amerisure's PEaK Producer Program, ACHIEVE Strategic and Business Planning, Agency Leadership Forums, and a comprehensive array of additional professional services which benefit Amerisure's PFS agencies.
She began her career as human resource (HR) manager for BHP Petroleum and later transitioned into HR and information technology consulting and global resource management at Deloitte Consulting, Siemens Consulting Group and EMC². Her industry focus includes financial services, manufacturing, construction and education. Her role further extends into the insurance industry as a presenter and facilitator at various conferences throughout the country.
DeMello-Johnson earned her bachelor and master's degree from Northwestern University, Evanston, Illinois. She is an active member of the Women's Association, and serves on the board of directors for the Boys & Girls Clubs of Southeastern Michigan.
About Amerisure Insurance
Amerisure Mutual Insurance Company is an insurance organization charged with creating exceptional value for its Partners For Success® agencies and policyholders. As an A-rated (Excellent) property and casualty insurance company licensed in 50 states, Amerisure provides a comprehensive line of insurance products to protect businesses focused in construction, manufacturing and healthcare through strategically located Core Service Centers. For more information, visit amerisure.com.