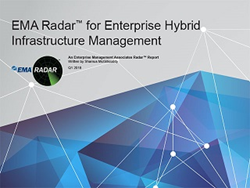 Network and IT operations professionals need tools that can monitor and manage infrastructure in the context of the services the IT organization delivers to the business
BOULDER, Colo. (PRWEB) April 25, 2018
Enterprise Management Associates (EMA), a leading IT and data management research and consulting firm, today announced the release of its newest EMA Radar Report titled, EMA Radar for Enterprise Hybrid Infrastructure Management. Created to assist IT professionals in selecting the right enterprise hybrid infrastructure management products, EMA has identified the leading vendors in this space based on key criteria defined by Shamus McGillicuddy, senior analyst covering network management at EMA.
In today's digital economy, many enterprises realize that the traditional network operations center (NOC) is not equipped to assure the health and performance of critical IT services. Increasingly, IT organizations are breaking down organizational silos and creating cross-domain operations centers. Network availability monitoring systems—the traditional foundation of any NOC toolset—has necessarily evolved to deliver visibility up and down the IT service stack, from the data center out to the public cloud.
"Enterprise network management solutions can no longer maintain a siloed view of infrastructure. Network and IT operations professionals need tools that can monitor and manage infrastructure in the context of the services the IT organization delivers to the business," McGillicuddy said. "EMA created this Radar report to evaluate tools that have a strong network monitoring foundation but provide comprehensive management and monitoring capabilities up the data center stack and into the public cloud."
EMA's Enterprise Hybrid Infrastructure Management Radar examines leading solutions for these monitoring requirements. EHIM solutions are classifiable and often used as network availability monitoring systems, but increasingly these solutions are also marketed, sold, and used as tools for data center and hybrid cloud management and operations. Some of the solutions evaluated in this report began life as network management and operations tools, and they continue to be marketed as such. Others were designed from the ground up as hybrid infrastructure management solutions. After talking to customers of solutions from both categories, EMA found that regardless of the pedigree of a product, it might find use as a network operations tool or a hybrid infrastructure and data center operations tool.
The purpose of this EMA Radar is to review and compare solutions that support hybrid infrastructure monitoring in medium and large enterprise settings. EHIM products typically fall into one of two groups: those designed for the scale and needs of small-to-medium enterprises, and those built for large or very large enterprises. EHIM products can span both groups, but EMA finds that they tend to have a sweet spot in one area or the other. Truly large enterprise EHIM solutions can scale to manage and monitor tens of thousands of infrastructure devices, but they tend to be less cost effective in smaller deployment scenarios. Products initially designed for smaller enterprises tend to be more cost competitive, but they will struggle to scale gracefully to larger environments.
A detailed, comparative study of the following solutions is provided in the report:

AdRem NetCrunch 9.3
CA/Unified Infrastructure Management 8.5.1
Centerity Systems/Centerity V3
IBM/IBM Netcool Operations Insight 1.4
nfosim/StableNet 8.1
Ipswitch/WhatsUp Gold
Kaseya/Kaseya Traverse 9.5
ManageEngine/OpManager 12
Opsview/Opsview Monitor 5.4
Paessler/PRTG Network Monitor 17
ScienceLogic/ScienceLogic version 8.5
SolarWinds/Network Automation Manager + System and Application Monitor
Zenoss/Zenoss Service Dynamics 5
The EMA Radar for Enterprise Hybrid Infrastructure Management is available online.
A webinar highlighting key results from the report will be held on May 3. Those who wish to attend, can register at http://info.enterprisemanagement.com/enterprise-hybrid-infrastructure-management-webinar-pr
About the EMA Radar Report
The EMA Radar Report delivers an in-depth analysis of industry-leading vendors and vendor products, including their overall market position in comparison with other vendors. This information is laid out in an easy-to-decipher, detailed Radar Chart, making it simple to see how vendors measure up in the market, as well as against other vendors. The EMA Radar report also provides a detailed discussion of methodology and criteria, a high-level market segment overview, and a comprehensive analyst write-up on each vendor.
About EMA
Founded in 1996, EMA is a leading industry analyst firm that specializes in providing deep insight across the full spectrum of IT and data management technologies. EMA analysts leverage a unique combination of practical experience, insight into industry best practices, and in-depth knowledge of current and planned vendor solutions to help its clients achieve their goals. Learn more about EMA research, analysis, and consulting services for enterprise line of business users, IT professionals and IT vendors at http://www.enterprisemanagement.com.