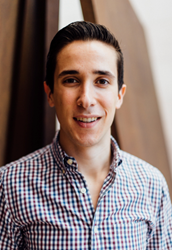 "Very impressive what is going on in Youngstown at DOYO Live. The venue, lineup, and event were a first class operation. It is great to see a regional marketing show follow the lead of the Content, Inc." - Joe Pulizzi, CMO of The Content Marketing Institute and Content Marketing World
YOUNGSTOWN, Ohio (PRWEB) April 25, 2018
DOYO Live is a digital marketing and interactive design conference in Youngstown, Ohio is entering its' third consecutive year. This regional day marketing event punches well above it's weight by featuring the top marketing talent in the industry today and has witnessed over 500 participants in the first two years.
This event has become one of the premier digital marketing conferences in Ohio and Western, PA, known for its' top notch speaker lineup, endless networking opportunities, convenient location and affordable price point. This is a no brainer for anyone looking to gain knowledge and expand their network in business today.
DOYO Live Founder Dennis Schiraldi pointed out, "keynotes and breakout session leaders in the past and present have presented at some of the largest, most prestigious and well recognized events around the country on the how tos of marketing. Attendees get access to the same level of talent at the national events for a fraction of the cost, not to mention an easy drive in-and-out of Youngstown, Ohio."
This year DOYO Live will feature Allen Gannett, CEO of TrackMaven, recent author of The Creative Curve (due out in June 2018), Dhariana Lozano, Co-Founder of Supremacy Marketing, widely published throughout the digital marketing community known for her expertise on social media marketing, and Maryna Hrdovich, VP of Strategic Development at SEMRush, one of the most respected companies in the marketing technology today.
DOYO Live, true to its' roots will also put local talent on display with workshops being run by Beth Hawks of TBG Digital on B2B Marketing for Manufacturers, Deanna Fusillo will conduct a deep dive workshop on social media strategy, DOYO Live will feature video by Bill Rusu of Pebble Films, and many others. DOYO Live has breakout sessions on digital strategy, social media, email marketing, web development, traditional branding strategies and more.
Joe Pulizzi, a past DOYO Live keynote, a Forbes Top 50 Influencer in Marketing and Founder of Content Marketing World in Cleveland had this to say about DOYO Live, "Very impressive what is going on in Youngstown at DOYO Live. The venue, lineup, and event were a first class operation. It is great to see a regional marketing show follow the lead of the Content, Inc. model and provide an event that's helping to revitalize the area. There was a solid group of speakers and I look for this event to continue to grow and inspire marketing professionals in content marketing strategy!"
DOYO Live is the premier marketing event of the year in Youngstown, Ohio being held on August 1 – 2, 2018 at the DeYor Performing Arts Center. This marketing conference is a perfect fit for anyone in marketing, sales, business owners and designers. Early bird tickets are currently on sale for $150, prices will go up on May 1, 2018.
To purchase tickets, visit: http://www.doyolive.com.
DOYO Live Speaker Lineup

Allen Gannett - CEO of TrackMaven + DOYO Live 2018 Keynote
Dhariana Lozano - Supremacy Marketing + Social Media Expert
Devyn Bellamy - Inbound Marketing Specialist
Beth Hawks - TBG Digital + Marketing for Manufacturers
Carmella Williams - Youngstown Business Incubator + Branding Superstar
Joe Jorgensen - Robintek + Web Development Aficionado
Tyler Sickmeyer - Fidelitas Development + Digital Marketing Expert
Mike Sevilla, MD - Practicing Physician and Healthcare Marketing Professional
Fortunato Figliano - Centers for Hearing + Purpose Driven Marketing
Myrna Hrdovich - SEMrush + SEO Search Mobile & Voice
Stay tuned, we will be adding additional speakers!
Contact Us:
For all requests on attending, sponsoring and media request please contact: Dennis Schiraldi at (330) 259-6181 or send email to: mailto:dennis(at)doyolive.com. Be sure to follow us on social media, we typically release promo codes for savings on tickets to the event. We look forward to seeing you at DOYO Live! – Register today for DOYO Live! http://www.doyolive.com
DOYO Live Digital Marketing + Interactive Design Conference is an exceptional event to get out learn, share and grow.
Register for your ticket today! http://www.doyolive.com/register-today/