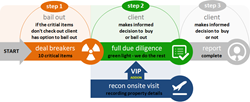 It can be overwhelming for the inexperienced buyer as well as the busy investor, so much so that they just walk away from a good deal because they don't know what else to do
AUSTIN, Texas (PRWEB) April 26, 2018
There's a new kid on the block to help with the mobile home park acquisitions process. While there are many solutions in the industry to help with brokering or financing, there is not an industry leader to help investors untangle the often stress-inducing due diligence process performed prior to purchasing a manufactured home community. With so much riding on having a property deal turn out to be a success or disaster, MHC Due Diligence Partners, (DDP) was launched nationally to address this gap in the industry.
Steve Edel, CEO of Due Diligence Partners and long-time park investor stated, "It's a huge deal to purchase a property - it's usually a minimum of a million dollars and, for many buyers, it's their first large real estate transaction. Investors often look for help when doing the due diligence for a property and there's typically no one to turn to. This company was formed to fill the existing need. Due Diligence Partners has the expertise to help fulfill the due diligence requirement from beginning to end. This helps the buyer make an informed decision which helps the buyer protect their investment."
The company was created to support first time buyers, experienced buyers or corporations looking to purchase mobile home parks that may not have the time or resources needed. Performing a due diligence process prior to purchase is crucial to the investor's overall success, not only during the deal-making process but in the long term. Infrastructure, home and tenant auditing, land use, and compliance are just a few items that can cost hundreds of thousands of dollars to fix and can spell disaster for an investor's dream purchase if not thoroughly researched and reported.
"Due diligence is such a huge process - you don't know what you don't know. It can be overwhelming for the inexperienced buyer as well as the busy investor, so much so that they just walk away from a good deal because they don't know what else to do," Steve Edel adds. "We've seen this time and time again, after having purchased many properties ourselves; we now have a solution for the industry by offering the research and checklist process that we have developed. We help take the stress away and empower investors, helping them make informed decisions in the Mobile Home Park investment arena."
DDP performs an extensive list of approximately 500 to 600 tasks on each manufactured housing community to help ensure it is worth buying. DDP's comprehensive report has also proven invaluable to their clients during purchasing negotiation or for renegotiation.
"Not only does it give the investor a huge advantage during purchase, it can also unearth a sub-set of critical due diligence items we like to call 'Deal Breakers' that are potential mine-fields of heartache that you don't want to inherit. Information like this at your fingertips during the beginning phase of purchase gives the potential investor an advantage like no other." says Steve Edel.
Looking to the future of the industry, DDP also launched their new website - http://www.DueDiligencePartners.com - to support investors and provide answers to some of their most asked questions when purchasing a manufactured home community.