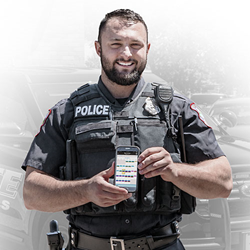 'We're trained to be problem -solvers, very active, very quick.' -- OSU Officer Alan Horujko
COLUMBUS, Ohio (PRWEB) April 24, 2018
When law enforcement leaders from across Ohio converge in Columbus for the annual Ohio Association of Chiefs of Police Conference, representatives from Aladtec, Inc. will be among 112 vendors present to demonstrate the latest state-of-the-art tools to help protect and serve the public.
The Aladtec Online Employee Scheduling and Workforce Management software platform is as close as an officer's smartphone or tablet. The cloud-based system streamlines scheduling of staff, makes filling open shifts and trades simple, helps agency's meet minimum staffing requirements, provides a tool to upload files, and assures that mandatory messages get read.
Aladtec is currently used by 214 Ohio police, dispatch, fire and EMS agencies.
The three-day Chiefs conference convenes on Sunday, April 29 with Presentation of the Colors by the Westerville Division of Police Honor Guard, accompanied by the Columbus Police and Fire Pipes and Drums.
Monica Moll, Ohio State University's director of public safety and OSU Police Chief Craig Stone will recap the minutes and hours following the November, 2016, car and knife attack on campus that injured 11 people before the suspect was shot and killed by a campus officer.
A subsequent FBI investigation concluded that attacker Abdul Razak Ali Artan acted alone, and although he was not directed by any terrorist organization, he appeared to have been influenced by extremist ideology including ISIS propaganda.
In a video interview released by OSU officials last year, OSU officer Alan Horujko said his training "kept my whole world from collapsing in on me" during the moments during which he shot and killed the attacker.
"We're trained to be problem solvers, very active, very quick," Horujko said. "These things develop in milliseconds, and you have to make these very complex decisions and keep making them as you go along the way."
Moll and Stone will share lessons learned from after-action reports and debrief meetings with many involved.
Other conference topics will include the best practices in data collection concerning racial disparities in police stops, roundtable discussions for chiefs, how officers can protect against fentanyl exposure, tactics and procedures for avoiding volatile interactions with Autistic individuals, and management approaches to minimize and mitigate risk.
Those attending the Chiefs' In-Service & Annual Conference at Hilton Columbus Downtown can visit Aladtec representatives Rob Kueppers Matt Zinnel and at Booth #412 during the Exhibitor Showcase on Monday, May 1. They'll provide guided demonstrations of the Aladtec system.
The firm has posted a short video that illustrates how the River Falls (WI) Police Department uses Aladtec to track certifications, assure proper staffing, streamline daily patrol logs and more: [ https://www.aladtec.com/customer_reports/river_falls_police_department.php __title__ ] Users can access the secure platform from smartphones and tablets any time to check a schedule, request time-off, trade or fill open shifts. Supervisors can send e-mail or text messages to individuals or groups, design and host electronic forms, and more.
Aladtec is the tool-of-choice to more than 2,000 public safety agencies across the U.S. and Canada.
To learn more about Aladtec now or to sign up for a complimentary demonstration, visit: https://www.aladtec.com/free_demo.php?stype=law_enforcement - or call Rob Kueppers at 888-749-5550 and he'll provide a quick recap of all the Aladtec program features.