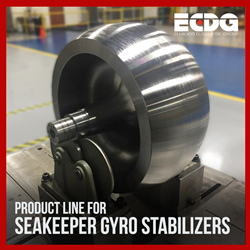 HOUSTON (PRWEB) April 23, 2018
The Ellwood Closed Die Group launches a new marine product line for Seakeeper. The product line includes several finish machined flywheels that are assembled into the gyro stabilizers, which per Seakeeper cuts down "95% of all boat roll, the rocking motion that causes sea sickness, anxiety and fatigue".
From start to finish, Ellwood Texas Forge Navasota (ETFN) utilizes the entire Ellwood Group supply chain to manufacture the flywheels. Raw material melted at Ellwood Quality Steel (EQS) and procured from Ellwood City Forge (ECF) is heated and forged on various pieces of equipment within the ETFN facility to produce the near net shaped forgings. The variety of hammer and press die forging equipment present within ETFN allows flexibility to manufacture the products using the most cost effective methods available. After heat treatment and processing, the forging is then rough machined, non-destructively tested for part quality and finish machined to extremely tight tolerances. The Seakeeper product line is the next step that ECDG is taking toward providing complete turnkey solutions to their customers, while joining a new customer, who is the leader in boat stabilization technology.
About Ellwood Texas Forge Navasota and the Ellwood Closed Die Group
Ellwood Texas Forge Navasota is one of two closed die forging companies owned by the Ellwood Group Inc., headquartered in Ellwood City, PA. Located in southeast Texas along with its' sister company, Ellwood Texas Forge (Houston), the facilities comprise the Ellwood Closed Die Group. At the center of ECDG's forging capabilities are a 16,000 ton screw press, a computer controlled 80 meter-ton counter blow hammer and a computer controlled 11,000 ton multi-ram hydraulic press. These core pieces of equipment are supported by conventional hammers, smaller hydraulic presses and mechanical presses to forge near net closed die forgings out of carbon, alloy, stainless, nickel and titanium. Each forge facility also has in- house die sinking, cutting, heat treatment, testing and machining capabilities. Both forging facilities possess AS9100C, ISO9001:2008 and Nadcap certifications. Primary markets served include, Aerospace, Construction, Defense, General Industrial, Marine, Mining, Oil & Gas and Power Generation.
Ellwood Group Inc. is a privately held growth oriented company with ten separate business units. All of its business units are non-union and have a strong focus on safety, quality and reliability.
About Seakeeper Inc.
Founded in 2003 by a successful entrepreneur and a naval architect, Seakeeper is the global leader in marine stabilization. Seakeeper's innovative technology changes the boating experience by eliminating up to 95 percent of all boat roll, the rocking motion that causes seasickness, fatigue and anxiety. Since selling its first gyro in 2008, Seakeeper has developed a growing catalog of models for an expanding range of boat sizes. Based in California, Maryland, USA, the company has more than 160 employees globally, based in the U.S., U.K., Italy, Germany, and Singapore.