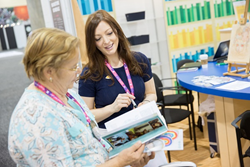 "The Mixed Media Event will showcase a broad variety of product categories in this growing industry, and enables all retailers, especially independent stores, to learn about and purchase new products leading up to the high-traffic holiday season." - Mark Hill, President & CEO, AFCI
ELMWOOD PARK, N.J. (PRWEB) April 24, 2018
The Mixed Media Event, the creative industry's summer wholesale buying event exclusively for independent and online retailers, will take place July 16-18, 2018 at the newly branded Mountain America Expo Center in beautiful Sandy, Utah. The event will feature one day of hands-on new product workshops and a two-day trade show. The Association For Creative Industries (AFCI), the premier trade association for the global creative arts products industry, is hosting the event in conjunction with Sierra Pacific Crafts (SPC), a member-owned cooperative of family-owned industry retailers.
"Our industry research indicates the creative marketplace in the United States is valued at $36.2 billion and that consumer participation in creative activities is growing," says Mark Hill, President & CEO, AFCI. "The Mixed Media Event will showcase a broad variety of product categories in this growing industry, and enables all retailers, especially independent stores, to learn about and purchase new products leading up to the high-traffic holiday season."
Workshops will be offered on July 16 and will demonstrate popular products, techniques and trends in mixed media, cardmaking, stamping, journaling and more paper crafts. The trade show will open July 17 and July 18, and will provide attendees with the opportunity to write orders and network one-on-one with industry manufacturers.
Registration is open and is free for AFCI members and SPC members. Non-member registration for entry to the trade show is $30. Workshops costs vary. For more information and to register, visit http://mixedmedia.afci.global
Companies interested in exhibiting may contact Nadine Schwartz, Director of Sales & Sponsorships, at nschwartz@afci.global or (201) 835-1203.
ABOUT THE ASSOCIATION FOR CREATIVE INDUSTRIES
The Association For Creative Industries (AFCI) is the premier trade association for the global creative arts products industries. AFCI strives to deliver innovative high value services as we support our Members who provide products and services to educate, entertain, and inspire creative consumers. Our Members include the manufacturers, retailers, distributors, designers, educators, digital content providers, professional makers and DIYers, and other creative professionals that comprise the $36 billion+ creative arts industries in the United States alone. For more information about AFCI, membership, or its annual trade events, visit http://www.afci.global.
ABOUT SPC
SPC (formerly Sierra Pacific Crafts) began informally 40 years ago when two retail stores in Washington started working together. SPC now serves more than 60 independent member stores who represent nearly 1 million square feet of retail space and 150 million dollars in retail sales. A.C. Moore, a family-owned chain of 140 craft stores, is also part of SPC's community. For more information, visit http://www.spc.us.