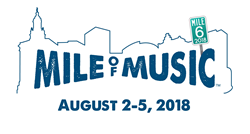 The First 50 event is always exciting as it gets people back in the festival spirit and gives them a sneak peek at some of the exceptional talent to come.
APPLETON, WI (PRWEB) April 24, 2018
Mile of Music, presented by Tundraland, has announced the first 50 names from its lineup of 200 artists in preparation for the festival's August 2018 return to Appleton, Wisconsin. With just over three months to go until the music-making begins, festival organizers were on hand at OuterEdge Stage last week to make the announcement at the annual "First 50" event.
Co-founders Dave Willems and Cory Chisel appeared with presenting sponsor Brian Gottlieb of Tundraland Home Improvements to announce the initial grouping of artists, including solo artists, duos and full bands. This first group represents 24 states, Washington D.C. and Canada with 30 artists who are new to the festival and 20 returning fan favorites.
Scheduled to run from August 2-5 at 70 venues across the one-mile stretch of Downtown Appleton, Mile of Music – referred to as Mile 6 – is slated to feature 900 live music sets with performances free to attendees. Some of the artists announced include:

Lilly Hiatt (Nashville, TN)
The National Parks (Provo, UT)
Michigander (Midland, MI)
Zane Carney (Los Angeles, CA)
Melodime (Washington, D.C.)
The Suitcase Junket (Leverett, MA)
Bishop Gunn (Natchez, MS)
Terra Lightfoot (Hamilton, Ontario, Canada)
Presented by Tundraland Home Improvements – a Wisconsin home improvements company serving as the largest of the event's nearly 100 sponsors – the four-day festival has focused on original roots music from up-and-coming performers since 2013. It showcases music at indoor and outdoor locations and has inspired year-round music events in the community.
"The First 50 event is always exciting as it gets people back in the festival spirit and gives them a sneak peek at some of the exceptional talent to come," said Gottlieb, president of Tundraland. "Our organization is proud to support a festival that has such a positive cultural impact and makes music accessible to everyone in our community the way The Mile does."
The celebration of "Mile Week" will include several festival staples from years past such as First Songs, the Mile of Music Bus, the Singer-Songwriter Salute, an expanded number of Performance Pop-Ups and the popular Chisel-hosted A Song Before We Go. The Music Education Team from Lawrence University will also be back to organize dozens of interactive, hands-on activities for attendees, ranging from world percussion events to instrument workshops and songwriting sessions.
As Dave Willems, Mile of Music co-founder and executive producer explained, the artists showcased at the music festival are not household names, but rather, they are typically undiscovered or unsigned performers who are traveling the country while building a name for themselves. "Our niche is in showcasing artists you may not know, but should," Willems said. "We're honored that we can create this opportunity for these artists to connect with so many appreciative music fans."
Both Willems and Chisel said Mile 6 will focus on creating a higher quality music experience for the performing artists and music fans alike across the festival's many and varied venues. "In the weeks leading up to the festival, we'll be working with the venues and the community of music fans to curate a better listening experience by sending a message of paying respect to the artists by paying attention," Chisel said. "We want to continue building the festival's reputation of being a destination and a music experience where artists feel appreciated and respected during these magical four days."
Mile of Music's 900 live performances are available to the fans and community at no charge, a rare occurrence among music festivals today. Music-Makers subscriptions are also available for a select number of exclusive shows during the festival and year-round perks.
Another 150 acts will be announced over the next six weeks to round out the roster, with the full schedule of dates and times to follow by mid-July. To check out the line-up of artists and any news related to the festival and "Mile Week," visit http://www.mileofmusic.com.
ABOUT MILE OF MUSIC
Mile of Music is an original roots music festival that launched in August 2013 as a creative and economic catalyst in Downtown Appleton, Wis. The four-day festival is held in August with the support of more than 100 community sponsors and 400 volunteers. It features 900 live music sets and 200 artists at 70 venues along the one-mile, walkable stretch of College Avenue and the nearby riverfront.