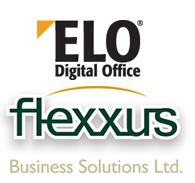 ELO is the only vendor with an ECM solution that meets the information and document management needs of any size company across a broad range of industries
BOSTON (PRWEB) April 25, 2018
ELO Digital Office USA, enabling businesses to improve collaboration and streamline information management in a digital economy, announced its expansion into the Canadian market with the addition of flexxus Business Solutions as an ELO Digital Office Certified Partner. flexxus helps businesses enhance their ERP and CRM systems with an integrated suite of cloud-based solutions that feature dashboards, reporting tools, centralized security, and powerful customization tools. Joining a global partner network of more than 1000 ELO Business Partners, flexxus will resell and implement the entire portfolio of ELO solutions to businesses in Vancouver, Burnaby, Langley, and Richmond.
Information Management for Project-based Businesses
"I wanted a document management solution that I could resell to anyone," says Paul Sweeney, director of flexxus Business Solutions. "ELO is the only vendor with an ECM solution that meets the information and document management needs of any size company across a broad range of industries. We're delighted to join the ELO partner network and eager to help companies in British Columbia grow their business with ELO Digital Office."
flexxus focuses on manufacturing, ecommerce, retail, technology and project-based businesses that want to use modern technology to grow their business while attracting and retaining quality staff. "Many of these businesses still rely on manual processes for their day-to-day operations," continued Sweeney. "With ELO, we can enable these companies to easily transition to a digital business model at an affordable price."
While ELOoffice, ELOprofessional, and ELOenterprise meet the budget and business needs of small, medium, and large enterprises, all solutions enable businesses to digitize key business processes such as:

Invoice Management - Invoices and receipts, which are captured and classified automatically, are passed on to the appropriate employee to streamline the accounts payable cycle.
Email Management – An end-to-end e-mail management solution that integrates with Microsoft Outlook and IBM Notes, and provides long-term archiving and IT compliance.
Mobile Working - ELO for smartphones and tablets enables customers to manage business data anytime – anywhere.
Contract Management - Best practice methods for contract-related processes with workflows to automate and unite processes in a single system.
Visitor Management - Tracks who is entering and exiting building, controls visitor access, and analyses visitor data to create personalized experiences.
"ELO Digital Office is committed to the North American market," said Szilvia Horvath, president and CEO of ELO USA. "With flexxus as an ELO Certified Business Partner, we extend the ELO brand and value throughout British Columbia and northern-most regions of the United States. Working with Paul and his team, I know that we will succeed in helping companies in these areas migrate to a digital workplace."
About ELO Digital Office USA
ELO Digital Office USA provides innovative digital content management solutions for organizations of all sizes and industries throughout the United States. ELOoffice, ELOprofessional, and ELOenterprise give businesses an electronic and secure way to easily capture, archive, and manage business documents and information – both paper-based and digital. A subsidiary of ELO Digital Office GmbH (founded in 1998), ELO USA is headquartered in Boston, MA and is part of a network of global ELO offices throughout Asia, Australia, Europe, and North and South America. ELO Digital Office GmbH has an extensive network of global business partners and maintains technology partnerships with industry leaders such as IBM, Microsoft, and SAP. Visit ELO USA. Follow us on LinkedIn and Twitter.
About flexxus Business Solutions Ltd.
flexxus Business Solutions Ltd. is a service company dedicated to excellence, integrity and partnership. Solutions from flexxus help you get the most out of your accounting software (ERP) and CRM systems while enabling efficient business operations. With cloud applications that give you dashboards, business intelligence or document management, streamlining your organization for a better bottom line has never been simpler. We have helped distribution, non-profit and mining companies advance their business through the application of better ERP software, flexible payroll for US and Canada as well as enhanced business intelligence. Visit http://www.flexxus.biz Follow us on LinkedIn.
###
All product and service names mentioned herein are the trademarks of their respective owners.