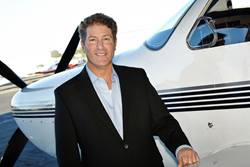 What happened in the past and what will happen in the future may never come so we must be present and focus on what is happening right now
SAN DIEGO (PRWEB) April 25, 2018
Aviation tragedy can yeild improvements to aircraft design, training, maintenance and even life lessons. DeLaurentis has personally experienced this after his own challenges during his solo flight around the world in 2015.
Pilots and travelers should not be deterred by the accident, which took place on April 17, 2018, according to Fox News. This was the first death that had occurred for Southwest Airlines since the 2009 crash in Buffalo, New York. DeLaurentis's passion is to learn how to better design aircraft, be more well prepared for flight, overcome fear as well as how to have the right focus moving forward. In a recent commentary he explains to his readers how the accident can be a positive step forward instead.
"Times like these pull us back into the present moment," said DeLaurentis, who offers wisdom and advice for pilots and business owners. "What happened in the past and what will happen in the future may never come so we must be present and focus on what is happening right now."
"The aviation industry, and the safety regulators who govern it, are obsessive about every detail of a flight: engineering out danger and looking deep into the soul to reduce the risk created by human factors," wrote Simon Calder in the Independent. Calder added that the Southwest tragedy is a rare event, and that with both air and land transportation there is risk involved.
Robert DeLaurentis is a pilot, business owner, spiritual teacher and author of the Amazon bestselling book, Zen Pilot: Flight of Passion and the Journey Within. His mission is to give flight to people's impossibly big dreams and make general aviation available to aspiring pilots of all ages. He is currently preparing for an upcoming South Pole to North Pole Circumnavigation, "Oneness and Peace: One Planet. One People. One Plane."
For more information on Robert DeLaurentis and to book a speaking engagement on critical moment decision making and overcoming the fear of flying, please contact Robert at PoleToPoleFlight.com for more information.