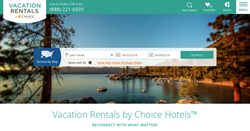 ...where guests stay during vacation is equally as important as the destination they choose, and we look forward to offering guests access to RedAwning's expansive selection...
EMERYVILLE, Calif. (PRWEB) April 24, 2018
Bay Area-based RedAwning.com, the largest network of vacation properties, announced today that it has teamed with Choice Hotels to provide customers, including 35 million Choice Privileges members, the ability to use points, or cash, to book professionally managed vacation rentals in top destinations across the United States via Choice Hotels' websites.
"Our goal is to make vacation rental properties available wherever travelers shop, and we're thrilled to be selected by Choice Hotels as a vacation rental supplier," said RedAwning CEO Tim Choate. "This is a unique opportunity for us to present alternative accommodations alongside traditional hotels as an option for guests seeking more space. We believe that Choice customers represent a huge and ideal demographic for vacation property travel."
"We're pleased to have teamed with RedAwning, one of the largest collections of vacation rental properties, to further expand our portfolio," said Steve Caron, vice president, Vacation Rentals by Choice Hotels. "Vacation Rentals by Choice Hotels understands that where guests stay during vacation is equally as important as the destination they choose, and we look forward to offering guests access to RedAwning's expansive selection in key vacation destinations with the backing of the Choice Hotels brand."
RedAwning's Business Solutions for property owners and managers include:

The alternative accommodations industry's only complete marketing, reservations and distribution solution.
One contract covers every channel.
Complete marketing services including content optimization, API connections with every channel, and innovative new approaches to content, pricing and terms.
24/7 reservation services including payment processing, credit card decline handling, chargeback management, relocations, inquiry response and check-in instruction delivery.
A free mobile guest app for managing reservations, check-in instructions, directions and easy contact to each property manager.
ABOUT REDAWNING
RedAwning is the world's largest branded collection of vacation properties offering a comprehensive layer of services and support with every stay. With over 100,000 unique properties in over 10,000 destinations, RedAwning continues to expand on being the broadest single point of access to the largest network in the world for alternative lodging, and with every major travel website participating, is the leading supplier of vacation rentals to Booking.com, Expedia, HomeAway/VRBO, Flipkey/TripAdvisor, and Airbnb. RedAwning also operates a number of exclusive vacation property booking websites, including Perfect Places, VaycayHero, TravelPro Rentals, and RedAwning.com.
RedAwning has been a leading innovator in the vacation rental industry since 2010, with a mission to redefine the customer journey for guests, hosts and managers and to drive new approaches that make the booking experience more consistent, easier, safer and better for all. The company is profitable, rapidly growing, and backed by Silversmith Capital Partners.
For more information on RedAwning or Redawning services, please visit http://www.redawning.com/list/propertymanagers
About Choice Hotels
Choice Hotels International, Inc. (NYSE: CHH) is one of the world's largest hotel companies. With over 6,800 hotels franchised in more than 40 countries and territories, Choice Hotels International represents more than 500,000 rooms around the globe, and as of February 1, 2018, more than 1,000 hotels were in its development pipeline. Our company's Ascend Hotel Collection®, Cambria® Hotels, Comfort®, Sleep Inn®, Quality®, Clarion®, MainStay Suites®, Suburban Extended Stay Hotel®, WoodSpring Suites®, Econo Lodge®, Rodeway Inn®, and Vacation Rentals by Choice Hotels® brands provide a spectrum of lodging choices to meet guests' needs. With more than 35 million members, our Choice Privileges® rewards program enhances every trip a guest takes, with benefits ranging from every day rewards to exceptional experiences, starting right when they join. All hotels and vacation rentals are independently owned and operated. Visit us at http://www.choicehotels.com for more information.