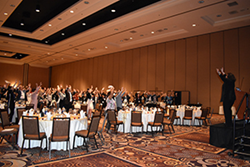 "The best ever. I've been to the bigger events and this was by far the best format for networking and to be able to have some meaningful conversations that reaped outcomes," said Rani Kumar, national account manager for Experient.
NEW YORK (PRWEB) April 24, 2018
Questex Travel Group's 13th annual Incentive Travel Exchange closed its final event in Las Vegas Friday night and will move to Vail Resorts in Park City, Utah, April 10-13, 2019.
This sold out event, held in partnership with SITE, the Society for Incentive Travel Excellence, brought fully hosted, high-volume North American incentive buyers and meeting planners who have a combined purchasing power of $1.5 billion, together with global suppliers for two and a half days of exclusive networking opportunities and prescheduled one-to-one meetings in private, luxury suites.
Suppliers were all entitled to a minimum of 25 private, one-to-one appointments over two days with buyers they selected in advance of the event based on detailed profiles which enabled them to meet with those most relevant to their business needs.
To allow even more connections among the approximately 300 attendees, networking activities included a welcome reception held high above The Strip in the Delano's rooftop restaurant - Rivea, hosted by MGM Resorts International, tickets to see the new Magic Mike Live and Mat Franco's Magic Reinvented Nightly shows, sponsored by BASE Entertainment; teambuilding at Topgolf, helicopter rides over The Strip sponsored by Maverick Aviation Group, and an exquisite dining and wine pairing experience hosted by M Resort and Origins Event Planning followed by a Vegas-style reception by the M Resort pool.
Guests were also invited to multiple education sessions including two different SITE presentations - the first presented by SITE Foundation president John Iannini, and the second presented by SITE CEO Didier Scaillet, as well as a keynote address presented by business coach, author, and motivational speaker, Jennifer Martin, founder of Zest Consulting.
The final day of the event had guests entertained during their lunch by The Magic Mentalist Michael Gutenplan, followed by a zany closing reception at the Hard Rock Café Las Vegas that included a hilarious lip sync battle hosted by SongDivision.
In two days, buyers and suppliers conducted a total 2,853 one-to-one appointments, ensuring a month's worth of new contacts, and walked away with qualified RFPs, and potential new business. Both suppliers and buyers alike were exceptionally satisfied with the event and the expected takeaways.
"The best ever. I've been to the bigger events but this was by far the best format for networking and to be able to have some meaningful conversations that reaped outcomes," said Rani Kumar, national account manager for Experient. "This was my first time attending, but rest assured it won't be my last."
"Kudos to the Questex team for a great ITE program in Las Vegas," said Thomas D. Hinton, president and CEO of CRI, Global LLC. "It was very worthwhile for us to attend."
The 2019 event will relocate for the first time since its inception in 2005 out of Las Vegas to the fabulous Vail Resorts in Park City, Utah. Event director for the Questex Travel Group Jill Birkett says this will be an unprecedented, yet positive change for the brand.
"We've had an amazing partnership with MGM Resorts and the Delano over the years," said Birkett. "That being said, change can be very exciting and the fresh air of the Park City mountains can only breathe new life into our flagship event."
Birkett said to expect more positive changes to the event in the next few weeks. She went on to say that Questex is currently offering a special early bird discount for any suppliers who reserve their 2019 suite before July 6, 2018. Details can be found on the event website IncentiveTravelExchange.com.
Suppliers at ITE 2018 included cruise lines, hotels, resorts, spas, tour operators, destination management companies, and some of the most sought-after incentive destinations across the globe.
Buyers represented key incentive purchasing sectors including corporate incentive buyers and incentive companies, as well as meeting planners.
ITE 2018 sponsors included Aruba Convention Bureau, BASE Entertainment, Cultivate, Delano Las Vegas, Hard Rock Café, Imprint Events Las Vegas, MGM Resorts International, Michael Gutenplan – The Magic Mentalist, M Resort, Preferred Events, Origin Event Planning, Québec City Business Destination, Society for Incentive Travel Excellence, SongDivision, The SunLux Collection by Sun International, Topgolf, Visit Scotland, and Zest Business Consulting.
Global Meeting & Incentive Travel Exchanges, owned and managed by Questex LLC, bring together qualified buyers and travel suppliers in key locations to provide a powerful platform for productive one-to-one meetings in private suites tailored to each attendee's business objectives. The appointment-based events cater exclusively to the meetings, incentives, conferences and events market. More information is available at GlobalTravelExchanges.com.
About Questex Hospitality + Travel
The Questex Hospitality + Travel Group of Questex LLC serves the worldwide hospitality, travel and related industries that together contribute over $6 trillion to the global gross domestic product. Through an innovative platform of targeted solutions, the group serves the sector's entire ecosystem, from tourism and hotel development and investment to hotel design, purchasing, management and operations.
The Questex Hospitality + Travel Group serves every B2B segment of the industry, from investment and development to management operations, sales and marketing of hospitality and travel products to destination development and marketing, via proven demand generation, learning, loyalty and rewards solutions as well as a network of live events. This division of Questex is aligned around three broad market segments – hospitality, travel and meetings – and supported by its digital media staff.
# # #