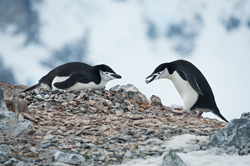 "A Christmas gift never to be forgotten - Antarctica!" Says TravelWild Expeditions GM Rick Vanselow. "Family travel is the best gift ever and you will not be able to top this one!"
VASHON ISLAND, Wash. (PRWEB) April 23, 2018
Christmas in Antarctica! With a $1,000 Discount!
TravelWild Expeditions; small ship experts, announce a $1000 discount for select departures to spend Christmas in Antarctica. Imagine the gift this would be - for your spouse, family and friends! A discount like this is remarkable and available for a limited time. It represents the final opportunity to travel to the Seventh Continent in 2018.
This itinerary is quite unique; flying to King George Island, Antarctica from Punta Arenas, Chile to join the ship on Day One; it includes time in the Falkland Islands and South Georgia along with the Antarctic Peninsula. Many of these destinations are famous because of ties to the early explorers
Abundant wildlife and sea birds are encountered in these islands. soaring on the winds of the South Atlantic Ocean. South Georgia has often been called the 'Serengeti of the Southern Ocean'. Guests explore the island by zodiac to view fur seals and the much larger elephant seal on the dark sand beaches. Living in the tussock grass, king penguins and their chicks may number up to 100,000 birds in some locations, including Salisbury Plain, St Andrews Bay and Gold Harbor. The island is also home to large numbers of nesting albatross as they fill the skies above, coming and going from the nest.
Around 60 miles off the coast of the Antarctic mainland, visit the South Shetland Island chain. Weather permitting, the ship sails into the flooded volcanic caldera of Deception Island, then enters the icy waters of the Antarctic Peninsula where an incredible abundance of wildlife live. Large rookeries are home to chinstrap, gentoo and Adelie penguins. Seals live on the ice floes, including the powerful leopard seal. Gulls, skuas and cormorants are also found nesting and feeding at many sites along the Antarctic Peninsula. A charter flight returns guests to Punta Arenas on Day 17 along with memories of a holiday like no other and new friendships to treasure.
This discount is per person, all cabin categories, through April 30, 2018 for sailing December 13-29. Please visit TravelWild Expeditions for additional information on inclusions and expanded itineraries.
About TravelWild Expeditions
For nearly four decades TravelWild has helped adventurous travelers bring their wildest dreams to life. Their small-ship cruises take you to places few will ever visit—places of unparalleled natural beauty and prolific wildlife. They love to help adventurous travelers experience the wonders of the natural world in areas like Antarctica, the Arctic, Alaska and more. Their expedition trips by small ship, cruise to remote destinations where thousands of people have realized their dream of seeing exotic wildlife and beautiful landscapes; making memories that last a lifetime!
TravelWild's objective is to provide a customer-tailored voyage, comfortable accommodations and transport, a concern for the environment and the safety of clients—all while maximizing the chance for clients to experience those exceptional and elusive wildlife and nature moments. Travelers expect the spectacular from TravelWild—and that's what they deliver!
TRAVELWILD EXPEDITIONS
CONTACT: Nancy Harrison
TEL: 307.421.4473
E-MAIL: nharrison@adventuremedianews.com
WEB: http://www.travelwild.com