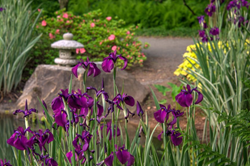 BALL GROUND, Ga. (PRWEB) April 24, 2018
- - Award-winning Gibbs Gardens, located in northeast Cherokee County in proximity to both Interstate 575 and Georgia 400, will be hosting its annual spring juried arts festival the weekend of May 19th.
Visitors will have a unique opportunity to stroll 220 acres of spectacular gardens and shop the work of 50+ select artists and crafters for one-half the normal adult admission price. Only $10 per person!
May is a fabulous time to visit Gibbs Gardens and see hundreds of roses, hydrangeas, annuals and perennials, ferns and more. Only original work will be offered from mediums including 2-D and 3-D mixed media, clay, leather, glass, wood, metal, oils, acrylics and watercolor as well as breathtaking photography, sculptures, and one-of-a-kind jewelry.
In addition to our artists and crafts people, vendors will be on hand for a spring market selling organic soaps, artisanal jams, fresh produce, local honey and essential oils.
Tasty food options will be available for purchase from Big Shanty Smokehouse and Circle A Farms, plus our top-rated Arbor Café.
Visit gibbsgardens.com to view a selection of works of the participating artists and artisans.
Gibbs Gardens is located at 1987 Gibbs Drive, Ball Ground, GA 30107.