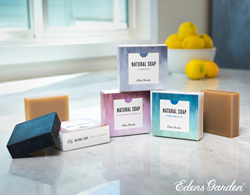 "Our cold processed bar soap contains only the purest ingredients and actually works," says Edens Garden CEO, Grace Martin.
SAN CLEMENTE, Calif. (PRWEB) April 23, 2018
Edens Garden is redefining body care with the addition of its natural bar soap collection. Responding to a growing need for body products made solely with clean label ingredients, Edens Garden formulated soaps that utilize the benefits of aromatherapy while flawlessly cleansing the skin.
"The average person is exposed to hundreds of chemicals every day and some can be incredibly harmful to the body," says Edens Garden CEO, Grace Martin. "Many of those same chemicals end up in products that we use on our bodies. Our cold processed bar soap contains only the purest ingredients and actually works."
The collection includes exfoliating Charcoal, grounding Earth & Wood, protective Fighting Five, sensuous Lavender Magnolia, invigorating Lemongrass and energizing Peppermint.
Each bar is artisan handmade by combining water, saponified olive oil, coconut oil, sustainable palm oil, non-GMO soybean oil and 100% pure essential oils. With a list of familiar and readable ingredients and the omittance of synthetic fragrances, Edens Garden natural bar soap is cold processed to ensure revitalizing nutrients remain intact.
Commercial products labeled as "soaps" are typically contain detergents and aren't really soaps at all. These detergent based soaps can strip the skin of its natural oils, leaving skin dry and flaky. True cold processed soaps are made of vegetable oils, and leave the skin feeling moisturized and touchable. Cold processed soaps are also good for all skin types and promote balance to the skin's flora.
Edens Garden bar soaps are gently cleansing, purifying and can be used as daily body and facial wash. As with every product Edens Garden offers, these bar soaps are tested on people and never on animals. Each bar soap is beautifully packaged and available for purchase at edensgarden.com.
About Edens Garden
Edens Garden was formed in 2009 with the intent to provide high-quality, pure essential oils at affordable prices. Since that time, the online company has grown to include a large variety of single oils, synergy blends, carrier oils, body oils and natural bar soap. Unlike many other aromatherapy brands, Edens Garden is a non-MLM company that sells directly to consumers. Through organic growth, Edens Garden has satisfied more than 1 million loyal customers. Known for a range of expertly formulated blends, Edens Garden has worked with some of the biggest names in the natural industry, including Schmidt's Naturals.