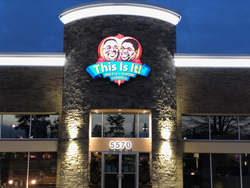 "It is with great excitement that the City of Stockbridge welcomes This Is It! BBQ & Seafood to the community. We continue to build our community with exceptional businesses that believe in the overall success of the City of Stockbridge. Welcome aboard." - Anthony Ford, Mayor of Stockbridge
STOCKBRIDGE, Ga. (PRWEB) April 25, 2018
THIS IS IT! BBQ & SEAFOOD headquartered in Fayetteville, Georgia is celebrating its eleventh restaurant opening at 5570 North Henry Blvd in Stockbridge, GA. This Is It! BBQ & Seafood's Stockbridge location will feature the company's first digital self-order kiosk.
The store opening has several key events in the month of May

First Fruits Day – Wednesday, May 9th, 2018 – 12 PM Until...(Free food while supplies last). The concept of First fruits derives from God's creation work. Because God created everything that exists, all of creation belongs to him (Psalm 24:1). Consequently, that which is first and best belongs to him and is to be given to him. This Is It! Stockbridge will give away free meals while supplies last. First Fruits Day will be hosted by V-103 Radio personality Wanda Smith of the Frank & Wanda Smith morning show.
"Our brand has a long history in metro Atlanta. The community has always supported This Is It! and we want to continue this tradition in Stockbridge. This First Fruits celebration is our way of saying thank you to all of our neighbors there." said, Shelley "Butch" Anthony III, President and CEO of This Is It! BBQ & Seafood.
Grand Opening Day Ribbon Cutting Ceremony – Wednesday, May 16th, 2018 – 10 AM
The official grand opening ribbon cutting ceremony will take place with city of Stockbridge elected officials, city personnel and community leaders of Stockbridge. The grand opening will be hosted by nationally known celebrity chef, television personality, and New York Times Best Selling author Pat Neely.
"It is with great excitement that the City of Stockbridge welcomes This Is It! BBQ & Seafood to the community. We continue to build our community with exceptional businesses that believe in the overall success of the City of Stockbridge. Welcome aboard." said Anthony Ford, Mayor of Stockbridge.
Community Day – Saturday, May 26th, 2018 – 11AM – 3PM
This Is It! BBQ & Seafood Community Day takes place on Saturday, May 26th. The celebration will continue throughout the day with fun activities, music, carnival games and a visit by Butch and Telley! During the event, kids of all ages can take a spin at the prize wheel. Guests will want to arrive early; prizes and surprises are while supplies last. The celebration lasts from 11 am until 3 pm. Children are encouraged to bring their parents along because there is some fun for everyone!
The event is free and open to the public. For more information, see the This Is It! BBQ & Seafood website or the This Is It! BBQ & Seafood Stockbridge Facebook page for details:
https://www.facebook.com/ThisIsItStockbridge/
http://www.thisisitbbq.com
About This Is It! BBQ and Seafood:
Established in 1983, This Is It! BBQ and Seafood specializes in delicious authentic southern home-style cuisine and is nationally known for its famous award-winning barbeque rib tips. For over 35 years, This Is It! BBQ and Seafood has been recognized for exceptional hospitality and service paired with the best authentic freshly prepared barbeque and seafood. Headquartered in Fayetteville, Georgia, "This Is It!" has ten restaurant locations throughout the Metro Atlanta area offering dine-in, to-go, delivery, private and corporate catering, and three full scale event rental spaces.
About Wanda Smith:
Wanda Smith is a household name that is synonymous with, success, giving, loving, sharing, empowerment and most of all class. A veteran in the realm of comedy she gracefully stepped into acting and hosting, and is continuing to make her mark as one of Atlanta's favorite on-air personalities. Wanda has been a welcome addition to radio powerhouse shows Mike Roberts and Carol Blackmon, Frank Ski and Wanda in the Morning and The Ryan Cameron Morning Show with Wanda Smith for over 15 years. Now she is back with Frank Ski to do it again and this time she plans on being bigger and better than ever before. Wanda is an innovator that is constantly opening doors and creating opportunities for everyone to succeed.
About Pat Neely:
Celebrity chef Pat Neely has enjoyed two amazingly successful careers, one as a renowned restauranteur and another as a nationally known television personality, New York Times bestselling author, endorser, speaker and entrepreneur. Pat rose to national prominence with the smash Food Network hit show "Down Home with the Neelys" and its spinoff, "Road Tasted," where he shared the secrets behind his favorite dishes and his passion for food, family and fun. Recently, Pat expanded his television endeavors by hosting and executive producing the family game show, "Save to Win," for the CW Network. As a restaurateur for over 30 years, Pat has operated several award winning barbecue and Southern restaurants in the Southeast and New York City. More information on Pat can be found at:
https://www.facebook.com/PatNeelyBBQKing
http://www.PatNeely.com