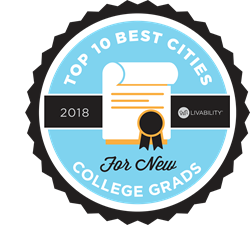 FRANKLIN, Tenn. (PRWEB) April 24, 2018
With May quickly approaching and commencement ceremonies taking place all over the country, there's no better way to kick off the graduation season than exploring some of the best U.S. cities for recent college graduates.
With this in mind, Livability.com has named the 10 Best Cities for College Grads. This data-driven list is comprised of 10 cities that are fun, safe and comfortable — with plenty of job opportunities for nearly every field.
Livability data scientists and editors studied important criteria, such as:

Median rent as share of median income for someone with a bachelor's degree
Share of population ages 25 or older with a bachelor's degree or higher
Median income for someone with a bachelor's degree
Dining and drinking establishments per square mile
22-29 year olds' share of total population
22-29 year olds per square mile
Unemployment rate for people with college degrees
"Choosing where to move after graduation is a decision that affects the rest of your life," says Winona Dimeo-Ediger, managing editor of Livability.com. "We're thrilled to present this data-driven list to help recent college graduates discover the perfect place for them."
The 10 Best Cities for College Grads:
1. Champaign, IL
2. Arlington, VA
3. Jersey City, NJ
4. Sandy Springs, GA
5. Santa Monica, CA
6. Albany, NY
7. Cincinnati, OH
8. Wilmington, NC
9. Kirkland, WA
10. Madison, WI
For more information about the 10 Best Cities for College Grads or to schedule an interview, please contact:
Winona Dimeo-Ediger, Livability.com Managing Editor, at wdimeo-ediger(at)livability.com.
###
About Livability.com:
Livability.com explores what makes small to mid-sized cities great places to live, work and visit. We examine issues related to livability such as walkability, cultural amenities, transportation, urban planning and sustainability through exclusive research and discussions on our blog. We celebrate the accomplishments of these cities through our monthly top 10 lists, our annual ranking of the Top 100 Best Cities to Live, and daily articles exploring the who, what, why, and how behind the "where." Livability.com is a division of Journal Communications, Inc.