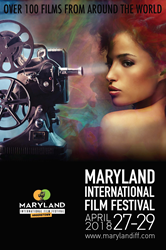 CEO, John McCain said, "The film festival gives us a unique opportunity to reach a new audience and demonstrate some of the fantastic programs that Goodwill offers the community. MDIFF is a high-profile event and we are excited to partner with them."
HAGERSTOWN, Md. (PRWEB) April 24, 2018
The seventh annual Maryland International Film Festival, Hagerstown (MDIFF-H) kicks off on April 27, 2018 and runs through April 29, 2018. During the festival, Horizon Goodwill will be hosting the film For Once in My Life. Executive Director, Tracie Hovey, said, "We are looking forward to a fantastic festival this year! We really enjoy using film to highlight non-profits and what they do for the community. Horizon Goodwill does so much more than just operate stores. I think the community will really love this film. It is very moving and beautifully made."
CEO, John McCain said, "The film festival gives us a unique opportunity to reach a new audience and demonstrate some of the fantastic programs that Goodwill offers the community. MDIFF is a high-profile event and we are excited to partner with them."
The screening of the film will be Saturday April 28th at the Grand Piano Ballroom at 6:40pm. The cost of the film is $10. For Once in My Life features the spirit of a Goodwill band, the unique assembly of singers and musicians who live with varying degrees of physical and mental disability banding together. The 29 members of the band work together during the day at the Goodwill Industries of South Florida. That is also the home of their practice venue. As their music becomes tighter and more harmonious, so too do their lives- a testament to the healing and empowering power of music, participation, cooperation, and friendship.
Last year MDIFF-H was the recipient of Movie Maker Magazine's top 50 Film Festivals Worth Their Entry Fee in 2017. The festival had celebrities like Golden Globe winner, Kamala Lopez, with her film Equal Means Equal, Kerry Cahill and Ann Mahoney from The Walking Dead, Director Joe Carnahan, and Director Eduardo Sanchez.
For more information about the festival, and to purchase tickets for the April 27-29 event, see: http://www.marylandiff.com. The Maryland International Film Festival-Hagerstown partners with several local organizations, businesses, and individuals, and major sponsors include the City of Hagerstown, the Hagerstown-Washington County Convention and Visitors Bureau, Washington County Government (Office of Grant Management), the Nora Roberts Foundation, Washington County Arts Council, Gideon Properties LLC, SNM Global, Horizon Goodwill Industries, Ovation PR & Advertising, RBC Wealth Management, Homewood Suites by HILTON, the Maryland Film Office, Jay Frantz and Tom Riford.
Goodwill has been rated #1 above the global brands Amazon and Google for the Brand World Value Rankings for 2016 and 2017. Horizon Goodwill Industries, whose mission is "Removing Barriers, Creating Opportunities," is a non-profit organization dedicated to ensuring that all people have access to employment despite significant obstacles. Horizon Goodwill serves over 5,000 clients annually in a 17-county region that includes parts of the states of Maryland, Pennsylvania, Virginia, and West Virginia. For more information, please visit http://www.horizongoodwill.org@HorizonGoodwill #GiveALift #GetALift #removingbarriers #creatingopportunities
The Maryland International Film Festival – Hagerstown is a 501(c)3 non-profit organization and is organized by filmmakers and marketing executives who understand the power of film and support the talent of the independent filmmaker. One of the film festival's goals is to encourage the development of filmmaker networks including media, distribution and the association with other artists. MDIFF - Hagerstown, believes in the importance of giving back to the community and donates a portion of the proceeds to charities around the globe.
#MDIFF18
###