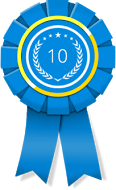 NEW YORK (PRWEB) April 26, 2018
10 Best Design has released the names of the winners of its Best WordPress Web Design Firm awards for April 2018, revealing Ruckus Marketing, Blue Fountain Media and SPINX Digital as the recipients of the top prize.
Every month, 10 Best Design creates lists that recognize companies that excel in different areas of the web design industry. One of these areas is WordPress, which is one of the most popular options for people who want to put out websites. For the month of April 2018, the agency has created an updated list of companies that qualify for the title of Best WordPress Web Design Firm. The following are the three top companies on that list, along with a brief description of each one.
The first company on the list and top candidate for the title of Best WordPress Web Design Agency is Ruckus Marketing, which is based in New York, New York. This company is all about creating a stir in the best way possible by using their innovative ideas to do the very best for their clients and really create an impact. Whether the client is just starting out or is well established and simply wants to evolve the brand, this company will be there for them.
Blue Fountain Media, based in the city of New York, New York, is number two on the roster of best WordPress web design agencies. This company is known for exemplary abilities when it comes to website design as well as brand strategy and design. They are also known for helping with mobile apps and other facets of digital marketing that are very important for their clients. They pride themselves on their ability to deliver stunning results each time, and they work with all sorts of industries, including e-commerce, education, nonprofit, Enterprise, and startups. They make it a priority to not only attract customers but to keep them around for their clients, as brand loyalty is very important as far as they are concerned.
Third on the list is SPINX Digital, which is based in the city of Los Angeles, California. As a leading WordPress web design firm, SPINX Digital has a lot to offer and is all about applying big ideas for big impacts with their clients. They are involved in professional B2B and B2C web design and development, along with digital strategy, mobile applications, advertising, user experience, social media marketing, email marketing initiatives, and content management systems. They have a strong understanding of user habits and behaviors when it comes to websites and use fact-based knowledge in order to implement strategies that will really work for each client.
For more information about this month's winning companies, please visit http://www.10bestdesign.com.