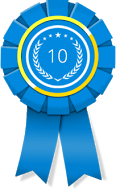 LOS ANGELES (PRWEB) April 30, 2018
Recently, 10 Best Design honored SPINX Digital as the winner of its Best App Design Firm award for April 2018.
This award is significant due to the increasing role that mobile app development is playing in the design industry. Mobile app development is a big deal and practically an Olympic sport in its own right. In fact, there are review sites out there that are designed precisely to rate these companies and hand out awards to the best ones. This announcement focuses on 10 Best Design's picks in this field as well as why these firms deserve to be honored in the mobile application field.
10 Best Design's rating and review experts are dedicated to working out the top placers in each category of app and site development. These awards include Best App Firm for Android and iPhone, Best App Company and Best App Design Firm for those with a taste for potent aesthetics. 10 Best Design measures out a plethora of metrics when considering who places where for what, and considers each company's quickness, effectiveness and pricing. In addition, they also list a general figure of how many employees make up each company.
SPINX Digital is considered to be Number One in the category of Best iPhone App Agencies of 2018. As the best app design firm, SPINX Digital is multifaceted in its expertise and experience. While the focus of this month's award is on mobile app development, SPINX assists clients with everything from SEO and SEM to PPC. This is actually quite relevant to mobile app development sphere in itself because of the internal synergy and consistency that one will get with employing the same people to handle all aspects of front- and back-end setup.
Blue Fountain Media assumed the Number Two spot as a Best Mobile App Business of 2018. Being a top app firm, Blue Fountain is known best for its emphasis on perfection right down the very pixels of an app's layout. For those who need a piece of software developed to get the job done with zero hitches and a gorgeous design, this talented team of minds will knock it out of the park in an exemplary fashion.
Ruckus Marketing also excels as one of the best app design firms of 2018. Strategy is the name of the game here with Ruckus' forward-thinking approach to future-proofing apps' functionality and aesthetic. They also offer a full spectrum of services to supplement an app or site, and this allows them to create a complete setup—from alpha to omega—that can elevate businesses to new heights.
For more information about this month's winning firms, please visit http://www.10bestdesign.com.