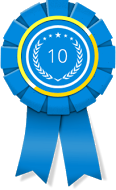 MANHATTAN, N.Y. (PRWEB) April 24, 2018
10 Best Design is thrilled to present the winners of its Best Manhattan Web Design Firm awards for April 2018, selecting jakt as one of the leaders in this category.
Every month, 10 Best Design compiles a list of the companies that can be considered candidates for the title of Best Web Design Firm in Manhattan. Any client that is looking to work with a Manhattan based company and needs help with web design should consider the companies on this list, as they have a lot to offer. For the month of April 2018, they have released their latest list of 10 contenders for this title, and the following are the top three companies on the list with brief descriptions of each one.
Ruckus Marketing, the best web design agency, is well deserving to be the frontrunner when it comes to the title of Best Manhattan Website Development Agency. They are known for working with all sorts of very effective brands and pride themselves on their ability to be innovative and creative at every turn. They enjoy launching new platforms, championing growth initiatives, and crafting lasting brands for their clients every single time. Their name is indicative of what they enjoy doing, which is causing a stir in the industry in the most positive way possible.
The second company on the list of best Manhattan website development agencies is Blue Fountain Media. This company is very well known for its creative stuff and all of the services that it has to offer when it comes to strategy and consulting, branding and design, website development, digital marketing in all aspects, and mobile applications. They pride themselves on the excellent results that they achieve with each client as well, with websites that are not only visually stunning, but also very effective in terms of actually bringing in customers and revenue. They work with clients in all kinds of industries, including education, nonprofit, startups, enterprise, and e-commerce.
The third company on this month's list of best web design firms is jakt. This company is all about making an impact in their client's digital marketing strategy. They focus on listening to what their clients have to say and respecting their vision while also applying their own expertise and experience in order to generate the best possible results. They have worked with all sorts of companies, including Fortune 500 companies and small startups alike. They pride themselves on seeing their clients as not simply clients, but also partners that they really like to see succeed.
For more information about the award winners for April, visit http://www.10bestdesign.com.